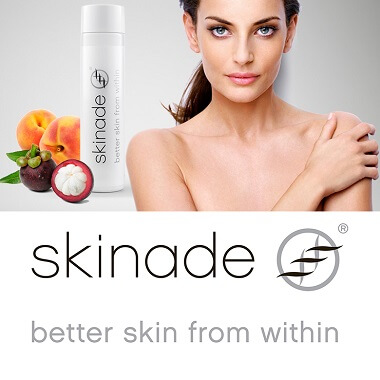 Liquid collagen drinks are gaining popularity and it's time you too should include them in your diet. Collagen is a protein which is found in our connective tissue and is responsible for keeping our skin firm and supple. Although our body naturally produces it but its production declines with age and causes our skin to wrinkle. Hence, consuming collagen is considered beneficial for tissue repair and also living true to the fact that "beauty begins from within".

Skinade is a special natural peach and mangosteen flavoured liquid collagen drink, prepared by leading UK based scientists to maintain youthful vigour. It's also probably one of the safest and effective liquid beauty food supplements with the perfect blend of all the essential proteins and vitamins required to keep the skin hydrated and glowing. The unique patented formulation of Skinade may be just enough to boost the body for the production of Collagen in less than 30 days or more for a more clearer and young-looking skin.
For further information please check out the Skinade Brochure(pdf)
Benefits of a Liquid Collagen Drink:
Helps the body produce more collagen naturally which in turn helps the skin become more firm and supple.
It helps to give the skin the required strength and durability for a more even look.
It may also add to the improvement in health of hair and nails.
Collagens are sometimes found to reduce the appearance of stretch marks as well as cellulite.
It does not contain hormones, alcohol, genetically modified organisms or other artificial colour or flavour.
This product is lactose and gluten free.
Skinade absorbs really fast since the ingredients are in solution.
Joint pains and stiffness may lessen.
Ingredients in Skinade Collagen Drink:
Vitamin C, which helps the body produce the protein called collagen. This in turn helps the skin become more firm and boosts immune system.
B Vitamin Complex which helps in promoting healthy skin
MSM which helps in retaining the elasticity of the skin and also aids in collagen production.
Organic flax seeds and l-lysine- helps in rebuilding collagen.
Apart from this, there are several other ingredients such as calcium ascorbate, Vitamin B5, B6, riboflavin, folic acid, citric acid etc which help maintain the body.
How to take Skinade:
You can opt for a 30 day trial of Skinade and can have one bottle of this magic potion every day.
The best time to consume this is after breakfast.
Skinade is available in a ready to use 150 ml bottle and a 15 ml travel pouch.
Just consume it directly from the bottle or dilute it with water.