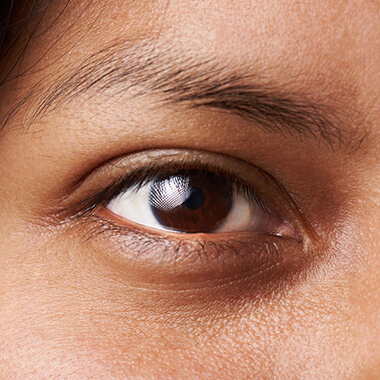 The skin under the eyes, is the thinnest in the body and blood vessels in this area tend to appear more prominent.
However, there are a number of reasons that cause dark circles under the eye heredity, aging, dry skin, stress, lack of sleep and an unhealthy diet.

Recommended Treatments:
– Drink 8-10 glasses of water per day to keep yourself hydrated.
– Sleep for at least 8 hours a night.
– Sleep on your back to avoid fluid retention.
– Don't smoke, don't drink a lot of alcoholic and caffeine drinks.
– Consume a balanced diet rich in antioxidants.
– Eat fruit and veg that contains vitamin C to strengthen the walls of the blood vessels and iron rich foods.
– Try to wear sunglasses to protect your eyes in sunny weather.
– Using products that contain Haloxyl, N-Hydroxysuccinimide and Chrysin as this will promote the elimination of blood originating pigments from under the eyes.