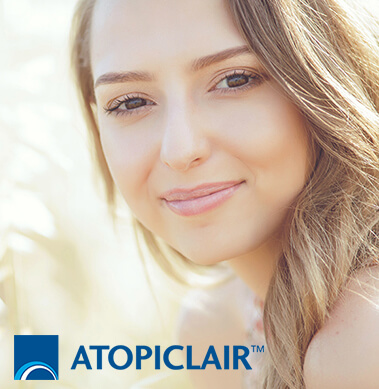 ATOPICLAIR - Non-Steroidal Cream
Prescription products without the Prescription
Atopiclair is indicated in the treatment and relief of itching, burning sensation and pain associated with various types of dermatoses, including atopic dermatitis and allergic contact dermatitis.
For further information please click on the following links below:
Atopiclair Brochure
Atopiclair FAQ's
Skincare Guide to Atopic Dermatitis
Parents Guide to Atopic Dermatitis
Click here to read Andrea's Review of the ATOPICLAIR medical skincare range
ATOPICLAIR® cream is an unscented, steroid free moisturising cream which is suitable for adults and children over the age of six months. The skin treatment fights against atopic dermatitis to rejuvenate the skin. It is suitable for those with mild to moderate cases of atopic dermatitis, commonly known as eczema. ATOPICLAIR® cream has been created to tackle atopic dermatitis and return confidence to patients, with improved, smooth, pain-free, visually repaired skin, that can be protected for future outbursts of the condition. 
The cream takes action against itching skin by restoring the skin with a soothing, moisturising remedy. It also continues to protect the skin from future occurrences of skin irritation. It is free of both paraben and steroid related ingredients making it gentle and calming for already irritated skin. The product can be used during episodes of atopic dermatitis as well as in remission periods, to protect your skin for future outbursts of uncomfortable sensations and soreness.
 ATOPICLAIR® strives to achieve improved skin conditions in several small steps:
- Soothes symptoms of atopic dermatitis, including uncomfortable burning and itching sensations.
- Recovers and restores damaged skin.
- Reduces inflammation and visually affected areas.
- Moisturises the skin and protects the skin from further irritation if atopic dermatitis is to occur on the skin.
 ATOPICLAIR® has been created by leading skin specialists and has undergone monotherapy trials to ensure that a highly effective product had been created. Atopiclair has become a popular choice amongst consumers, who continue to be exceptionally satisfied with the results achieved. This is reflected in consumer reviews where the quality of the products and value for money they offer are consistently praised.