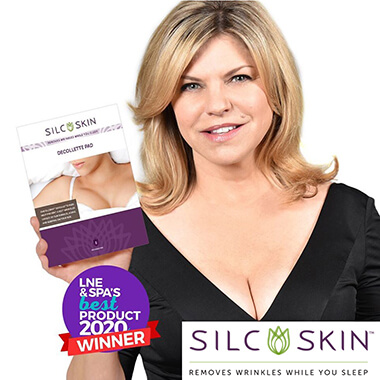 Designed by two-time Emmy Award winning, Hollywood Makeup Artist, Camille Calvet.

After realizing that the Chest area (Decolletage) was often overlooked in the fight against wrinkles, she developed the silicone Decollette Pad. Seeing first hand, how silicone had healing properties with scars, she integrated this into a pad that also formed a barrier action that prevented the skin from forming the wrinkles in the first place.
And also now available SilcSkin facial pads, designed to reduce existing wrinkles and expression lines and prevent new ones from forming. Worn while sleeping, the pads relax and retrain the facial muscles and soften fine lines and wrinkles.

Introducing the amazing Decollette & Facial Pads which Repair & Prevent Decollette & Facial lines
* No Invasive Procedures
* Non-transdermal - nothing imparted into the body
* Best results achieved whilst sleeping
* Dramatic & noticeable improvement after 1-2 nights
These Pads Really Do Work!