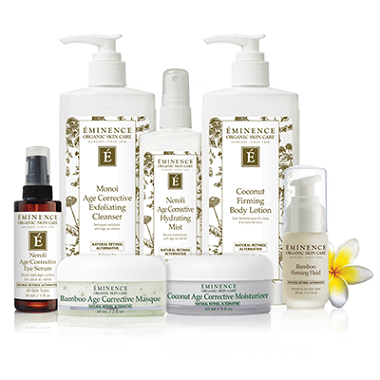 Natural Retinol Alternative
Eminence Organics uses plant-based ingredients, such as chicory root and tara tree, to get similar retinol results like collagen boosting and smoothing effect. This natural Retinol doesn't give you the unpleasant effects of a chemical-based retinol, so can be used at all times, day or night.
A Natural Retinol Alternative is found in many of the Eminence Organics anti-aging products. The very popular Bamboo Firming Fluid is a potent anti-aging serum that boosts collagen, firms & tightens the skin.
Coconut Age Corrective Moisturiser is an anti-aging corrective moisturiser that hydrates and targets the signs of aging. Neroli Age Corrective Eye serum is an anti-aging eye serum to rejuvenate the eye area.