Totally Derma Nutraceutical Skin Drink - 30 day supply
Totally Derma boasts a potent combination of bio absorbable collagen, hyaluronic acid and other scientifically proven antioxidants, anti inflammatories and minerals vital for collagen production and skin health.



Totally Derma Nutraceutical Skin Drink - 30 day supply
A Premium once-a-day Collagen DRINK Supplement
TOTALLY DERMA is a high strength, powdered nutraceutical collagen drink supplement containing collagen amino acid peptides, hyaluronic acid and high levels of key antioxidants, anti-inflammatories and minerals for collagen production and repair.
Totally Derma works from the inside, optimising not only the skin, but the entire body and its systems at the cellular level.
Drinking Totally Derma daily contributes to skin firmness, elasticity and hydration, longer, stronger hair and nails, more flexible joints, stronger bones, improved gut health and is a key supplement for peri and post-menopausal women.
Totally Derma represents a new era in skincare, health and well-being, by tackling the root causes of ageing and delivers a holistic approach to Age management.
Once a day supplement mixed with water, smoothie or fruit juice.
• Very pleasant, with a hint of vanilla
• Does not need to be dissolved in a solution to be 95% absorbed
• A single dose of Totally Derma® contains the equivalent of 26 capsule alternatives
• Highest quality and purity available, free of all common allergens and does not contain preservatives, diluents or artifi cial additives
• We recommend drinking Totally Derma® a minimum of 90 days. However, results will continue to improve with longer term usage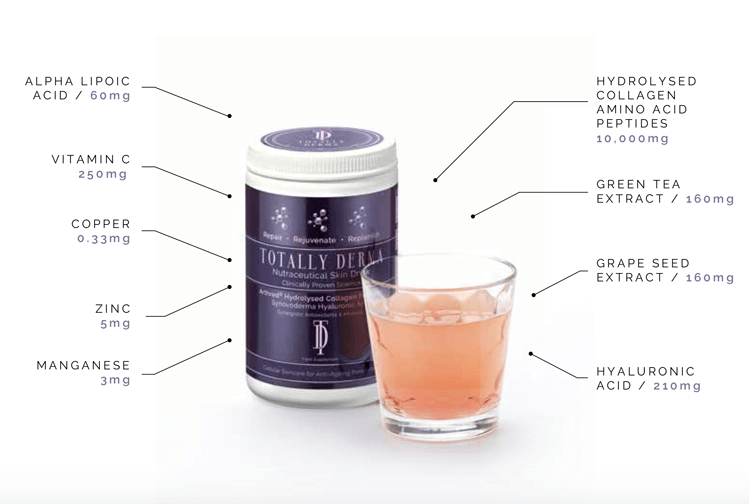 The collagen, hyaluronic acid plus other synergistic co-factors including Vitamin C, Green Tea Extract, Grapeseed Extract, Alpha Lipoic Acid, Zinc, Copper and Manganese are distributed via the blood vessels into the deeper layer of the dermis, where they stimulate fibroblast cells to produce more collagen and hyaluronic acid in the dermis.
Totally Derma® is also shown to deliver visible improvements in overall skin, hair, nails, joints, bones, gut health and gynaecological menopausal dryness.
Size: 360g tub (30 day supply)
Directions:
Mix one level scoop of the powder with 250ml of water or juice and drink once a day in the evening

Contra indications:
• Pregnancy or breastfeeding-as a precaution
• Kidney stones/renal issues-proteins could increase heavy load on kidneys
• Digestive issues/IBS-use ¾ scoop instead
• Thyroxine-not allowed 4 hours before any vitamins or minerals
• Not suitable for vegetarians/vegan/hindus (bovine)
Ingredients

| | |
| --- | --- |
| Ingredients | Arthred Collagen Peptide (Amino Acid Composition: Glycine 2260mg, Proline 1535mg, Hydroxyproline 1090mg, Glutamic Acid 1045mg, Alanine 890mg, Arginine 815mg, Aspartic Acid 625mg, Isoleucine and Leucine 460mg, Lysine 335mg, Serine 325mg, Valine 300mg, Histidine 190mg, Phenylalanine 190mg, Threonine 190mg, Hydroxylysine 100mg, Methionine 90mg and Tyrosine 80mg), Evaporate Cane Juice (Saccharum Arundiinaceum), Ascorbic Acid, Hyaluronic Acid, Erythritol (E968), Vanilla Natural Flavour, Citric Acid (E330), Grape Seed Extract 4x, Green Tea Extract, Stevia, Xantham Gum (E416), Aerosil (E551), Alpha Lipoic Acid, Zinc Citrate, Manganese Citrate, Copper Bisglycinate, Maltodextrin Please Note: Contains Arthred Hydrolysed Collagen which is Bovine Sourced |
I have not had 30 days yet. However, I would like to know when is the bet time to take this drink for the best result? Thx
To be very honest I don't think I've been taking it for long enough to really see the benefits but taking into consideration the content it feels like a good thing to be taking - however regrettably I find it difficult to drink as the taste for me is unpleasant so if anything needed to improve to make me purchase more it would be the flavour of it