Rejuvenated Collagen Shots - 24 Sachets
The ultimate anti-ageing collagen drink that really gives results.

- Delay the early signs of ageing.
- Enhance natural collagen & elastin
- Improve hydration
- Reduce fine lines and wrinkles
- Nourish your skin from the inside out.

24 individual sachets.
Discover the benefits of drinking collagen for radiant skin.
High strength award winning Collagen Shots drink with skin firming antioxidants and vitamins.
10,000 mgs hydrolysed marine collagen, hyaluronic acid, acai berry super antioxidant, combined with vitamin B3, B5, C with zinc and copper.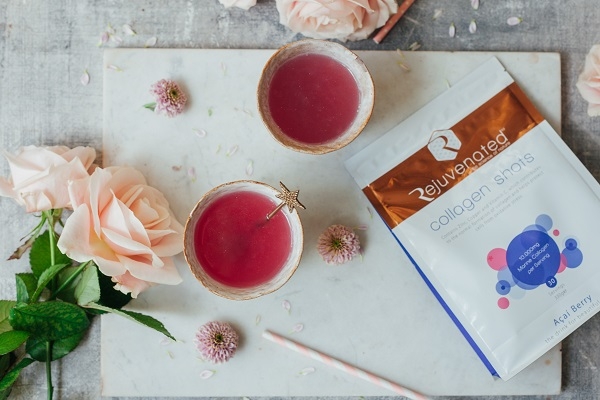 Rejuvenated's 'Collagen Shots' provides you with 10,000mgs of marine extract collagen – that's equal to between 20 to 30 typical collagen tablets a day! The fruit flavored drink consists of 100% natural marine collagen and acai berry which helps reduce premature ageing for just £1 a day!

After the age of 25, the body begins to lose its ability to create new collagen, reducing by 1.5% a year and by the age of 45 collagen levels can have reduced by as much as 30%. The visible effects of this collagen reduction are the appearance of wrinkles, fine lines and dry skin, which we know too well are associated directly with ageing. With statistics like this, it's no wonder an anti-aging system can't be effective without an adequate supply of collagen!

True skin health starts deep within and supplementing collagen levels with Collagen Shots will improve elasticity and help to give a more youthful appearance.

10,000 mgs marine collagen, hyaluronic acid, acai berry super antioxidant, combined with vitamin B3, B5, C with zinc and copper.

Boost levels of peptide rich amino acids and improve the skin's tone and texture with Collagen Shots active ingredients. Reduce the appearance of tell tale signs of ageing.
AWARD WINNING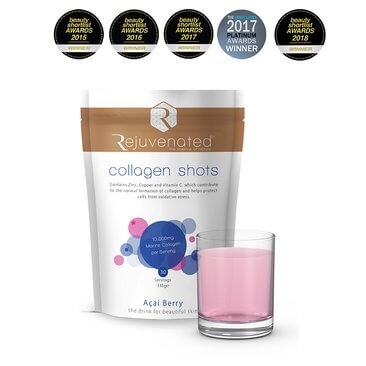 Drink Rejuvenated Collagen Shots daily to promote:
• Delay the early signs of ageing.
• Enhance natural collagen & elastin
• Improve hydration
• Reduce fine lines and wrinkles
• Nourish your skin from the inside out.
- Suitable for diabetics
- 100% natural ingredients
- Gluten free
- Lactose free
Comes in a 30 serving pouch or 24 individual sachets.

Directions:

10 grams (10,000 mgs) of collagen per serving, take once per day (mild berry-flavour)

To get the best benefits from Collagen Shots take daily, ideally half an hour before going to sleep at night, this is when cells are renewing. Alternatively have on an empty stomach either first thing in the morning or before a meal.

Pour one sachet in a glass and fill with 200 - 250ml of water (or preferred beverage), whisk with a fork, allow a minute for collagen to dissolve - whisk again and drink.
You could use a small blender or shaker for mixing.
Caution:
Do not drink if you are allergic to fish or shell fish.
If you are pregnant or breastfeeding take advice from your doctor or healthcare practitioner before taking.
use within 60 days of opening.

INGREDEINTS:
Acai Berry:
A super food with over 19 amino acids itself, including essential fatty acids for skin health and vitamins A, B1, B2, B3, C and E. Açaí Berry was our antioxidant of choice as it is high in essential fatty acids and antioxidant properties.
Copper:
Copper contributes to the maintenance of normal connective tissues, and aids in the protection of cells from oxidative stress. It also plays a part in normal skin pigmentation and the function of the immune system.
Hyaluronic acid:
Hyaluronic acid (HA)has often been called the fountain of youth, it can hold up to 1000 times its own weight in water and provides a cushion filler between the cells.
Marine Collagen:
Collagen is the most abundant protein in the body and supports skin health and its elasticity, taking it as a drink is the perfect way to supplement diminishing levels as we get older. Collagen contains many amino acids (proteins) and each one has it's own fantastic benefits, read here for more information on the top 15. At Rejuvenated we use marine collagen from white flesh fish, however we can not guarantee that it is 100% free from shell fish.
Stevia:
Stevia extracts have up to 300 times the sweetness of sugar, it is low in calories, low-carbohydrate, low-sugar food alternative. Because stevia has a negligible effect on blood glucose, it is an ideal natural sweetener for people on carbohydrate-controlled diets.
Vitamin B3 (Niacin):
Vitamin B3 is essential for the metabolism of carbohydrates, fats and lipids in the body and is required to produce energy.
Vitamin B5 (Pantothenic acid):
Vitamin B5 is water soluble and is essential to synthesise coenzyme-A.
Vitamin B6 (Pryidoxine):
Vitamin B6 or Pyridoxine, is required for balancing hormone changes in women, assisting the immune system and the growth of new cells.
Vitamin C (L-ascorbic acid):
Vitamin C is an essential vitamin that protects the body against oxidative stress and contributes to the formation of collagen in skin, hair and nails.
Zinc:
Zinc plays an important part in digestion and the production of pancreatic enzymes to break down food to enable the digestion of carbohydrate, protein and macronutrients.
It plays a role in protecting against oxidative stress and contributes to normal DNA synthesis.
Free from: carbohydrates, artificial colours and artificial sweeteners, gluten, preservatives, lactose, yeast, starch, fat and cholesterol.
FAQs for Rejuvenated Collagen Shots.
See what the press say about Collagen Shots...

The Sun - £1-a-shot drink that banishes wrinkles!
ChicFantastique Reviews
Spoilt face beauty blogger
Collagen shots tried & tested (PDF file)
The Times Hot List (PDF file)
Nathalie Eleni Beauty Editor of Country and Town House Magazine (PDF file)
The Mail on Sunday (PDF file)
Linda's Review of the Rejuvenated Collagen Shots
Get The Gloss Magazine
"The best Collagen Powder" Women's Health "The best collagen-boosting supplement" - Sheerluxe "One of my favourites is Collagen Shots by Rejuvenated" - Beauty Shortlist "If you're looking to feed your skin from within, then this is a good bet"


Ingredients

| | |
| --- | --- |
| Ingredients | Marine Collagen Hydrolysate (Fish), Acai Berry extract, ascorbic acid (vitamin c), hyaluronic acid, Flavouring, Niacinamide (vitamin B3), Calcium Pantothenate (vitamin B5), Pyridoxine Hydrochloride (Vitamin B6), natural sweetener (Stevia), wild berry flavouring. |
Amazing stuff on my second box but even noticed a effects on the first box. My hands look younger. Also my. Face
I can honestly say, this is one the best Products I have ever used. It's is very noticeable how my hair has got thicker and my nails are much stronger and longer. I would highly recommend. I have only been using Rejuvenated Collagen Shots less than 3 months !!