Priori Priori Bioengineered Skincare Anti-aging lines:

Priori Advanced AHA Cosmeceuticals – Multi layer skin renewal and essential moisturisation
Priori Idebenone Complex Superceuticals – The next level of skin rejuvenation and free radical protection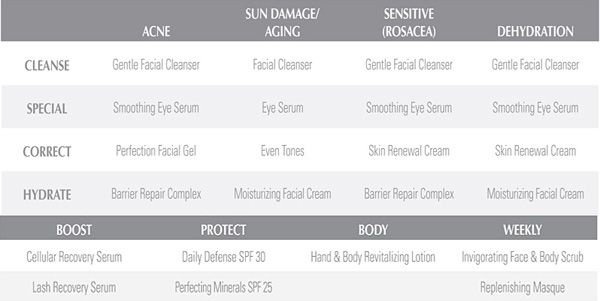 We are an authorised and official stockist of the Priori Range
PRIORI's extensive range of cosmeceutical skincare products have been designed to combat the onset of aging and to preserve the long-term health of the skin. Some signs of aging result from biological processes over which we have little control, like genetics and cell division. Others are the result of environmental factors, like our exposure to smoke and radiation, our diets, and the general quality of our lifestyles.
Each of these environmental factors place oxidative stress on our skin cells. This is the damage caused within a cell by reactive oxygen molecules. Over time, this stress can cause skin to lose its youthful vigour and elasticity, which means lines, wrinkles and saggy skin.
PRIORI's products help to fight this process, which in turn helps to keep our skin looking its best for as long as possible. They do this through a range of AHA-based cosmeceuticals and ibedenome-based superceuticals.
Alpha-hydroxy acids are carboxylic compounds, typically found in sugar cane, milk and fruit. When placed on the skin, AHAs can penetrate into the cells, where they act as a moisturiser. More crucially, AHAs have anti-oxidative properties, which can slow the signs of aging. AHAs can help to reduce cell adhesion on the topmost layer of the skin, helping it to breathe, and causing a markedly smoother texture after just a few applications.
PRIORI's AHA formula combines lactic acid with a number of anti-oxidative vitamins, including vitamins A, C, E and Pro-A. This prolongs the life of the skin cells and helps to aid their regeneration.
Idebenone is a bio-engineered version of CoEnzyme Q10, a vital antioxidant. Idebenone is a thousand times more effective than its naturally-occurring cousin, and so is often referred to as 'Super CoQ10'. It is a respiratory-chain antioxidant, unlike AHA and vitamin based antioxidants, and offers an unsurpassed level of protection against oxidative stress.