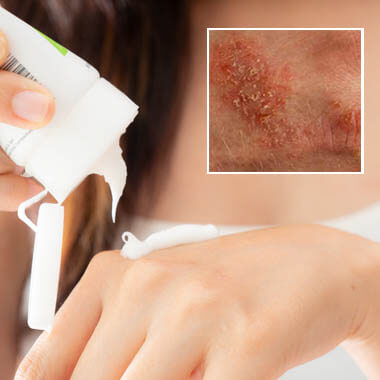 Although there is no cure, most people can effectively manage their disease with steroid ointments and regular moisturising emollients and by avoiding irritants.
Symptoms may flare up and then disappear for a period of time before reappearing. Recognising 'triggers' that cause your eczema to flare up can be an effective measure in managing the symptoms. Some people may have flare-ups of the itchy rash in response to certain substances or conditions.  Stress can cause the condition to worsen. You may find that eczema flare-ups occur more frequently or get worse in the winter. Dry air combined with indoor heating systems can dry out your skin.
Click here to view Tips On How To Help Manage Eczema Symptoms
Treatments to hydrate, soothe, and calm the skin. Below is a list of products to use on eczema, psoriasis, dermatitis and other dry, itchy skin conditions. Specially formulated to provide effective, gentle skincare to help your skin look and feel its best. All are proven to be non-irritant and are unfragranced.