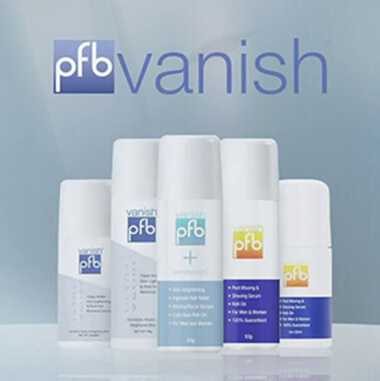 PFB Vanish - Treatment for Ingrown Hairs
Goodbye Ingrown Hair!
PFB Vanish is a unique answer to PFB (Pseudo Folliculitis Barbae). The inventive roll-on gel uses impressive exfoliants to discard and relieve ingrown hairs, razor burns and lumps that have formed after shaving, waxing and laser hair removal sessions. Skin swiftly feels moisturized and soothed after using PFB Vanish.
Why should you use PFB Vanish?
Although most ingrown hairs are seen as minor irritations, when they are left for an extended period of time they can become painful and they can even become infected when left untreated.
With PFB Vanish you can quickly get eliminate this problem and once again have soft, silky skin.
Benefits of PFB Vanish:
- Easy to apply
- Reduction of redness and swelling of the skin
- Reduced irritation and discomfort of the skin
- Calming and soothing
- Smooth Skin
- Prevents damage caused by UV rays
- Disposes of ingrown hairs
- Reduced signs of ageing, acne scarring, blemishes and dark spots.