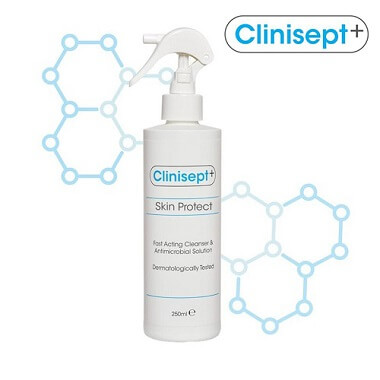 CLEANS, CALMS & CARES
Fast Acting Skin Cleanser & Antimicrobial Solution
Clinisept+ offers a completely new approach to skin cleansing that is rapidly being adopted by the worlds leading cosmetic professionals.
Previously, products that provide effective skin cleansing fail to be completely skin compatible.Similarly, products that are completely skin compatible, fail to provide effective skin cleansing.
Clinisept+ re-writes the rule books and is the only chemistry that is effective enough to clean and protect the skin whilst also being gentle enough not to cause redness or irritation.
Dermatologically Tested
WHY?
Clinisept+ Prep & Procedure is a gentle, but highly effective skin cleanser that cleans, calms and cares for the skin.
It contains the latest hypochlorous technology to ensure rapid antimicrobial protection, but without stinging or irritation.
Because of its unique oxidising method of action it is not susceptible to antimicrobial resistance.
Clinisept+ Prep & Procedure is unlike any other cleanser and represents a significant development in skin care.
It provides optimal conditions for skin recovery.
Cleansing antimicrobial
Skin neutral pH
Non-irritant
Non-cytotoxic
Dermatologically tested
No Chlorhexidine or Alcohol