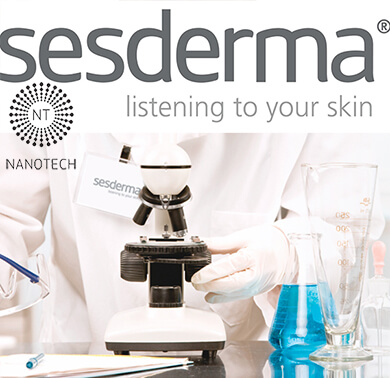 Sesderma Laboratorios, cosmetic dermatology innovations. 25 years working with Dermatology
Dr. Serrano and a team of professionals with extensive experience in the dermatological and pharmaceutical field founded Sesderma. Direct contact with patients allowed them to determine essential needs first hand. Their daily contact with patients in their practice made it possible for them to develop specific products for each skin problem.Currently, the brand is present in over 40 countries worldwide.
"Sesderma" specializes in providing tailored solutions for all skin types. The technology behind the portfolio is based on Nanotechnology. Nanotechnology is a scientific method and a transportation system that allows active ingredients encapsulated in liposome bubbles to penetrate as deep as the dermal layer.

"Listening to your skin. By listening to people's skin, Sesderma listens to people."
A wide set of lines specially designed to take care and treat even the most sensitive skin, while fighting major skin problems like rosacea, acne, seborrheic dermatitis, psoriasis and hyperpigmentation.