Rejuvenated H3O Night Repair 550g - 30 capsules
Designed to boost cellular hydration and provide vital nutrients to help skin repair and renew overnight, while the skin is at it's most productive.
30 capsules
Wake refreshed and renewed, just 1 capsule to provide more beautiful skin while you sleep
A special blend of high strength herbs and antioxidants with enhanced hydration while you sleep, offering nutritional support for healthy skin. H3O Night Repair is rich in Calcium, Magnesium and Vitamins A, B, C, D & E. Includes pine bark, grape seed extract, astragalus and astaxanthin.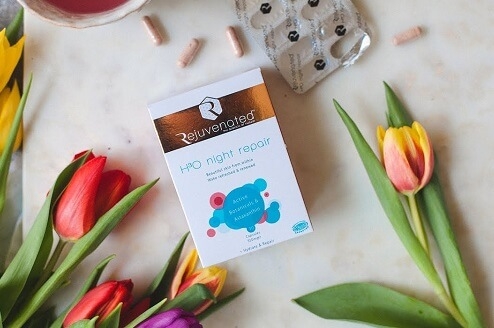 • Morning radiance & better sleep
• Healthy skin, hair and nails
• Decrease puffiness and dark circles
• Protection from oxidative stress
• Improved hydration levels
• Increased circulation
• Optimum nutrient absorption
- Suitable for diabetics
- 100% natural ingredients
- Gluten free
- Lactose free
Comes in a 30 capsules
Directions:
Take one tablet at night with Collagen Shots or small glass of water.
Not to be taken if you are pregnant or breastfeeding. If taking any medication or if you have any health concerns, please consult a doctor before use.
In the Press:
Get the Gloss Magazine
"Rejuvenated's overnight supplement has everything you need to bolster your skin's repair while you sleep. Hyaluronic hydrates and plumps the skin cells, and a cocktail of minerals keeps cell metabolism firing." Byrdie "I noticed that my skin was much more even in tone" Stylist "Hydration and free-radical fighting as you snooze. If beauty sleep came in a packet it would look a lot like this.