Oleeva Brachioplasty Shape
- Perfectly shaped for use after Brachioplasty or arm lift surgery
- Reusable for 6 weeks with simple care
- Recommended by hospitals and plastic surgeons
- Prevents scar from thickening and raising
- Reduces scar appearance & itching
- No messy gels or pastes
- Completely latex- & drug-free
- Comfortable under everyday clothes



Oleeva® is intended for the prevention or reduction of new or old hypertrophic and keloid scars resulting from general surgical procedures, plastic surgery procedures, traumatic injuries, wounds, burns as well as minor cuts and scrapes that can cause a scar to form.

Oleeva® Scar Shapes are specially designed to treat scarring from breast, abdominal and other surgical procedures.

Made of Oleeva® Fabric, Scar Shapes are cut to ensure the correct placement and coverage for your procedure.

Oleeva® Scar Shapes are ideal for use under surgical garments or ordinary clothing. Oleeva® Scar Shapes contain no messy gels or pastes. Thin, soft and flexible—they're so comfortable, you'll forget you're wearing the latest technology for scar management!

The inner surface is made of Silon®—used around the world for the treatment of burn scars for more than 20 years. The outer surface is covered with a silky fabric for a touch of elegance and optimal comfort.

Benefits:
- A complete line of scar management shape solutions
- Perfect for cosmetic and re-constructive surgery
- Thin, soft and flexible extremely comfortable & durable
- Self-adhesive for maximum convenience
- Silky outer surface fabric
- Ideal for combination therapy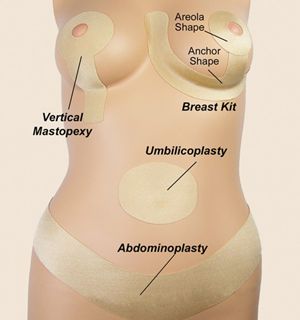 Comes in different sizes and shapes

Oleeva Brachioplasty Shape 2in x 8in (5cm x 20 cm)
Designed for scar management following brachioplasty.

Contains - one Brachioplasty Shape 2 x 8 in (5 x 20 cm)
Brachioplasty Shapes are sold one per arm. If product is required for both arms, you will need to order two.
Reuse every day for up to 6 weeks!
Directions:
Step 1 - Remove Oleeva® from the package
Step 2 - Ensure Oleeva® completely covers the incision. For proper coverage, we recommend not altering the product's size; use scissors to trim the product only if necessary and allow for a minimum of 1/2″ area around the entire scar. Store the remaining gel sheet in a dry place, like the package the Oleeva® came in.
Step 3 - Remove the backing from the product and apply to the scarred area without stretching the material. Helpful hint – for a larger area, remove small portion of backing, apply Oleeva® to the scar and then peel off remaining backing while applying little by little along the scar.
Step 4 - Wear the Oleeva® for 12 hours for the first day and then gradually increase the tolerance to 23 hours a day
Step 5 - Remove and clean both sides of Oleeva® at least once per day with plain soap and warm water to remove debris.
Step 6 - Place the Oleeva® on a clean flat surface and allow to dry prior to re-application. Helpful Hint – Order a 2nd Oleeva® Sheet to wear while the first sheet is drying.

For further information please click on the links below ...
How to use Oleeva (pdf)
Oleeva FAQ's(pdf)
Oleeva Helpful Tips (pdf)
Oleeva Technology (pdf)
Ingredients

| | |
| --- | --- |
| Ingredients | Oleeva® is made from a patented proprietary formula containing a mixture of biocompatible PTFE ("Teflon®") material and bio-inert/bio-compatible medical grade silicones blended into a composite structure called Silon® that are manufactured as a topical silicone gel sheeting with a self-adherent property. |