Alhydran SPF 30 59ml - Medical hydrating cream with sun protection
Treats tough skin problems caused by burn wounds, dry skin, laser treatments, sun damage, psoriasis, stretch marks and more... it's the go-to cream for your skin conditions.
- Protects new skin and moisturises deeply, reducing dryness, itching and flaking
- Restores skin's suppleness and actively reduces appearance of burns and scars
Alhydran SPF 30 offers high-level sun protection. This medical hydrating cream offers protection against both UVA and UVB rays.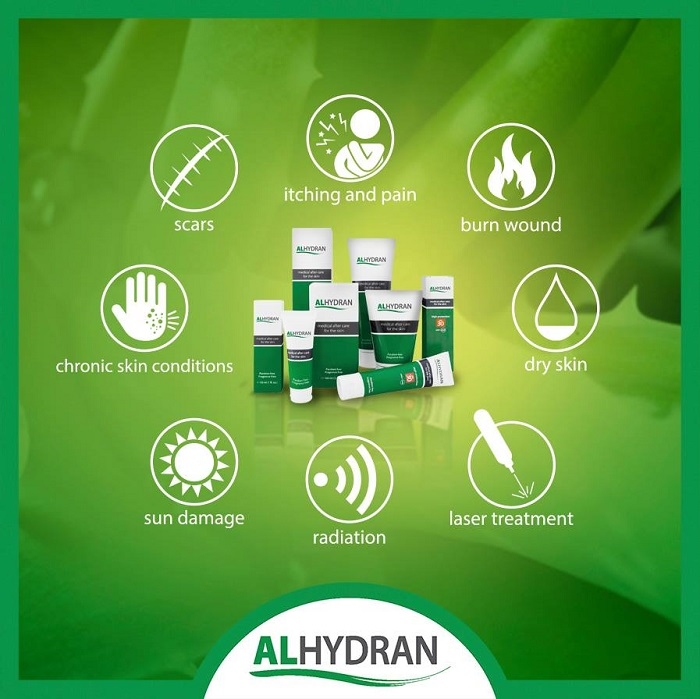 Radiotherapy
During the course of radiation sessions the skin is damaged and skin problems (radiation dermatitis) can occur at the radiation site:
- Redness
- Itching
- Dry skin (flaking)
- Burning sensation
- Blisters and wounds may appear
During and after the radiation period ALHYDRAN plays a useful role in treating the delicate irradiated skin.
Actinic keratosis
Sun damage (actinic keratosis) can be treated with cryotherapy, Topical cream(5-fluorouracil) or photodynamic therapy (PDT).
ALHYDRAN is a highly effective after-care cream following actinic keratosis treatments.
Provides:
- Soothing effect
- Effective, fast improvement in the skin reaction
- Reduces itching and redness
Burns
ALHYDRAN reduces the symptoms of burns (such as itching), increases skin elasticity and speeds up the repair of the scar tissue.
Laser Treatment
ALHYDRAN helps repair skin damaged by laser treatment. ALHYDRAN immediately soothes the skin, reducing itching, redness and pain in the damaged skin. In addition, ALHYDRAN helps prevent symptoms such as scar formation.
Wounds
ALHYDRAN forms a protective layer over this important but delicate skin. It can be used to protect, hydrate and care for both the edges of wounds and the newly-closed skin.
- Protects and hydrates newly-closed skin
- Reduces unpleasant symptoms (such as itching)
- Increases skin elasticity
Dry Skin
ALHYDRAN provides immediate, long-lasting protection against excessive moisture loss. It hydrates the skin, makes it more supple and reduces itching. The protection provided by ALHYDRAN enables the skin to repair itself.
Key Ingredients of Alhydran SPF 30 Medical Cream:
- 45% aloe vera gel which moisturises into the deepest layers of skin.
- Jojoba oil, vitamins E adn C to heal and recover damaged skin.
Directions of use:
Apply at least three times daily, or when the skin feels itchy, dry or irritated.
Apply thinly and rub in gently until it's fully absorbed into the skin.
Creams should only be used on healing, newly formed skin - do not apply on open wounds
Similar Products You May Like