SilcSkin Facial Pad - Brow Set
Authorised Internet Resellers for SilcSkin
- Designed to reduce & prevent wrinkles and expression lines
- 100% medical grade silicone
- Washable
- Contains set of 3 pads
Preventing the lines of time...
SilcSkin facial pads were designed to reduce existing wrinkles and expression lines and prevent new ones from forming.Worn while sleeping, the pads relax and retrain the facial muscles and soften fine lines and wrinkles.

SilcSkin Facial Pads are made of 100% clear medical grade silicone.
No additives, fillers, latex or adhesives are used.
Pads may be washed without losing their adhesive quality.
Pads usually last 30 days depending on usage time and skin conditions.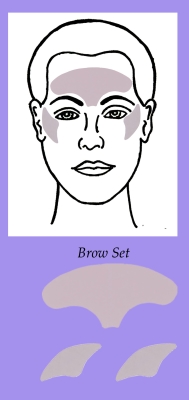 HOW THE FACIAL PADS WORK:
Our Facial Pads are composed of 100% Medical Grade Silicone. Electro static energy provided by the pads when worn is supposed to improve the irregular collagen structure and also creates an increased blood flow which results in an improved skin tone.

Silicone should contribute to moisturizing the skin by drawing the skin's moisture to the surface. This process has been shown to hydrate the skin and is an important factor in healing scars. We are simply treating wrinkles as scars by hydrating, improving the Collagen structure, and flattening them out. Prolonged use will help return Face skin to a more youthful and supple appearance, by softening fine lines and wrinkles.

Before and after images






Directions:
SilcSkin Brow Set (contains one brow and two multi-area face pads)

1. Remove pad from box, cut open poly bag, do not discard. Remove pad from backing.
2. The pad is self-adhesive. The pad will begin to lose adhesive qualities in approximately 30-60 days. Once this happens a new pad should be applied.
3. Apply the pad to the desired area of the face while sleeping, or any time of day for an hour or more.
4. Make sure the face area is thoroughly clean, dry and free of moisturisers, sunscreens,etc. Sweating at night may interfere with adhesion.
5. Remove the pad slowly in the morning in an upwards motion and store stuck to the poly bag.
6. Pads should be washed occasionally to remove exfoliated skin cells that may interfere with the adhesive quality of the pad.
7. Pads should be washed with an antibacterial soap that is free of moisturisers, emollients or oils. Allow pad to air dry in a clean location. Do not dry with a towel. Once dry, return to poly bag.
8. Do not use on sensitive, irritated, cut, scratched or burned skin. Do not use if there is a known sensitivity to silicone. Discontinue use if a rash or irritation occurs.
9. Decollette pads are made of 100% medical grade silicone. There are no allergy causing additives or adhesives used. Pad is not transdermal.


Please click here for SilcSkin Facial Pads FAQ's (PDF)


Helpful Tips:


Have you washed the pads?
Regular washing them with an antibacterial soap or baby shampoo will remove the exfoliated skin cells which can interfere with the adhesive quality of the pad. Another trick after washing them is is to dry it with a hair dryer, as it helps to revive the adhesive. One of our customers says she gets months out of her pad doing this!

The pads are to be worn on clean dry skin with absolutely no product or lotions underneath, this interferes with the adhesive quality as well as can cause rashes and reactions. Also, night sweats will interfere with the adhesive quality of the pad.

Also, if you think the pad might have become contaminated with either a residue of soap, lotions or sunscreens it can be wiped down with rubbing alcohol (using a gauze or paper towel) to clean it. Also, the area where you wear the pad can be cleaned with Witch Hazel and allowed to dry prior to wearing the pad, this assures that no residue of product remains on the skin and also helps if there is perspiration.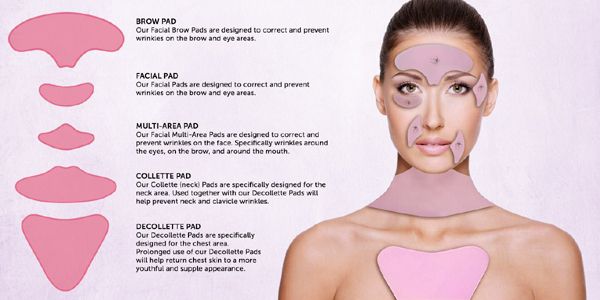 Ingredients

| | |
| --- | --- |
| Ingredients | 100% medical grade silicone |
A good product for the forehead and wyes which produces excellent temporary results Could do with a little longer shelf life as the adhesive doesn't last the advertised month its more like 2 weeks or so.
This stuff really works for the lines of expression if used every night before going to bed.
It's not as good as I was hoping and it doesn't stay on very well but it has made a slight difference
Quite comfortable to wear. Lessens lines.
Very good product, it really works!
Product definitely work and with quick results very happy