ENLIGHTEN
NeoStrata Enlighten Pigment Lightening Gel
The third step in the Enlighten regimen - Effective anti-aging for the promotion of bright, even skin tone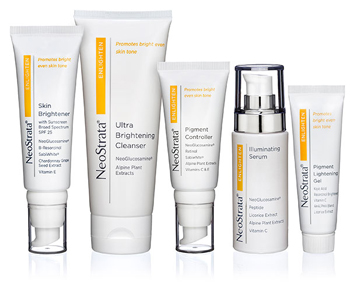 A high-strength brightening gel that significantly reduces skin pigment and targets skin discolorations such as dark spots, age spots and hyperpigmentation.
This unique formulation combines the active brighteners Butyl Resorcinol, Kojic Acid and Vitamin C, to help reduce the appearance of existing pigmentation and discourage new spots from forming. An AHA (Alpha Hydroxy Acid) /PHA (Polyhydroxy Acid) blend helps to exfoliate skin and spots, while Licorice Extract enhances brightness. Skin is left brighter, clearer and smoother. Enlighten your daily skincare regimen with this powerful spot corrector.
Size: 20g/0.70oz
Directions:
Apply gel on the affected area twice daily.
The difference between the Enlighten gel and the Enlighten Pigment Contoller is the gel contains Kojic acid and the controller contains Retinol, but they are both pigment lightening products.
AM
1/CLEANSE - Enlighten Ultra Brightening Cleanser
2/PREVENT - Enlighten Illuminating Serum
3/TREAT - Enlighten Pigment Lightening Gel (contains Kojic acid)
4/PROTECT - Enlighten Skin Brightener SPF25
PM
1/CLEANSE - Enlighten Ultra Brightening Cleanser
2/PREVENT - Enlighten Illuminating Serum
3/TREAT - Enlighten Pigment Lightening Gel (contains Kojic acid) OR Enlighten Pigment Controller (contains retinol)
4/HYDRATE - Moisturiser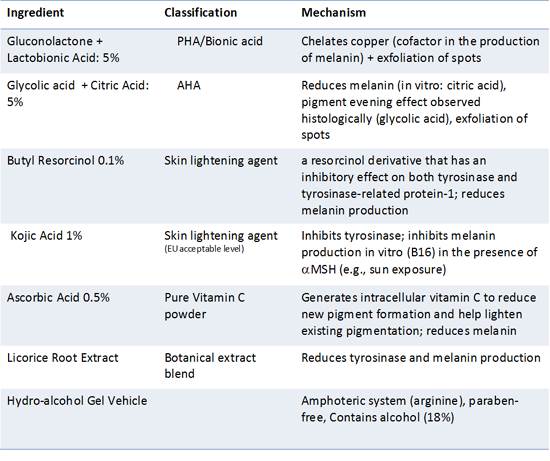 Similar Products You May Like