ENLIGHTEN
NeoStrata Enlighten Ultra Brightening Cleanser
The first step in NeoStrata's Enlighten regimen - Effective anti-aging for the promotion of bright, even skin tone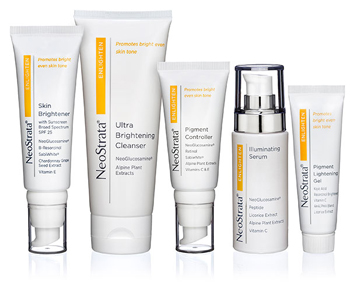 Helps prepare skin for maximum effect of subsequent treatment products in this series Neostrata Enlighten. With NeoGlucosaminem ™ and extracts of alpine plants
To brighten and smooth your skin
- NeoGlucosamin ™ patented, non-amino acid sugar technology, has a gentle exfoliating effect and helps to restore skin cells.
- Alpine Plant Extracts reduce tyrosinase and melanin production – including mallow, peppermint, lemon blam and cowslip
- Creamy foaming wash‐off cleanser, removes oils and makeup
- Soap free, Paraben free, Fragrance free, Allergy tested
Size: 100ml
Directions:
Apply a moderate amount to wet skin and massage gently to cover the entire face. Rinse with water. Use twice daily. For best results follow with illuminating serum followed by pigment controller. Daily use of a sunscreen is recommended.
AM
1/CLEANSE - Enlighten Ultra Brightening Cleanser
2/PREVENT - Enlighten Illuminating Serum
3/TREAT - Enlighten Pigment Lightening Gel (contains Kojic acid)
4/PROTECT - Enlighten Skin Brightener SPF25
PM
1/CLEANSE - Enlighten Ultra Brightening Cleanser
2/PREVENT - Enlighten Illuminating Serum
3/TREAT - Enlighten Pigment Lightening Gel (contains Kojic acid) OR NeoStrata Pigment Controller (contains retinol)
4/HYDRATE - Moisturiser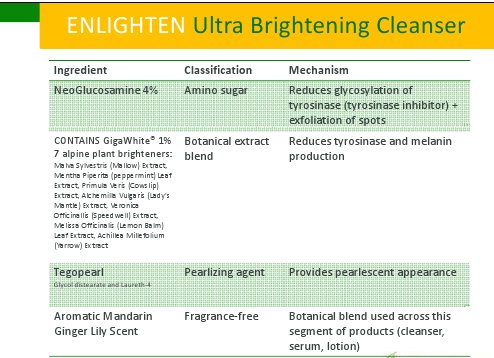 Similar Products You May Like