Details
ENLIGHTEN
NeoStrata Enlighten Illuminating Serum
The second step in NeoStrata's Enlighten regimen- Effective anti-aging for the promotion of bright, even skin tone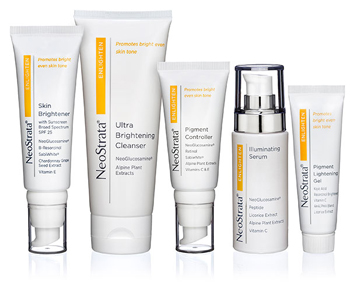 Serum to brighten and illuminate skin suffering from hyperpigmentation
with NeoGlucosaminem ™, peptides, licorice extract, alpine plant extracts and vitamin C
To brighten and smooth your skin
This highly effective serum is designed to brighten skin illumination and suffering from hyperpigmentation caused by aging, hormonal fluctuations and solar UV radiation.
- Contains 12 Active brighteners targetting 6 pigment control systems to help break up and reduce the appearance of existing pigmentation and discourage new dark spots from forming.
- Patented NeoGlucosamin ™ enhances the natural cell renewal, which causes skin peeling and fading existing skin colour.
- NeoGlucosamineTM , licorice extract, targeted peptide, Vitamin C and 7 Alpine plant extracts combine to offer potent pigment‐reducing effects inhibiting tyrosinase and melanin production and tranfser.
size: 30ml
Directions:
Using fingertips, gently apply serum to cleansed face twice daily then follow with pigment controller. Daily use of a sunscreen is recommended.
AM
1/CLEANSE - Enlighten Ultra Brightening Cleanser
2/PREVENT - Enlighten Illuminating Serum
3/TREAT - Enlighten Pigment Lightening Gel (contains Kojic acid)
4/PROTECT - Enlighten Skin Brightener SPF25
PM
1/CLEANSE - Enlighten Ultra Brightening Cleanser
2/PREVENT - Enlighten Illuminating Serum
3/TREAT - Enlighten Pigment Lightening Gel (contains Kojic acid) OR Enlighten Pigment Controller (contains retinol)
4/HYDRATE - Moisturiser