iS Clinical Pro-Heal Serum Advance+ in 15ml
Healing, Super Antioxidant, Anti-inflammatory
Want a bigger bottle? Try the 30ml iS Clinical Pro-Heal Serum.
Pro-Heal Serum Advance + Featuring our scientifically advanced Vitamin C time release technology combined with a superior form of olive leaf extract and pure vitamins A & E this clinically proven formula delivers our highest ever anitoxidant protection and exceptional healing properties. A must for Acne & Rosacea sufferers.
Size: 15ml (lasts 4-6 weeks)
3.1 PH
Benefits of using iS Clinical Pro-Heal Serum Advance+
A powerful antioxidant protection
Reduces redness and inflmmation
Offers soothing and healing relief
Contains 1% Retinol
Provides UV photo-protection
Use daily when inflammation is present in place of Super Serum
Pre & Post Procedure
Key Ingredients in the iS Clinical Pro-Heal Serum
L-Ascorbic Acid (Vitamin C) ADVANCE 15.0% - Scientifically-advanced, stabilized form of L-ascorbic acid providing time-released, continuous delivery.
Retinol (Vitamin A)
1.0% Olea Europaea (Olive) Leaf Extract 0.5% - Potent, natural antibiotic, anti-acneic, anti-inflammatory and antioxidant.
How to apply the Pro-Heal Serum
Place 2-3 drops on back of hand to then apply sparingly to clean skin over the face & neck area or as directed. For best results use as guided by aesthetic practitioner or as part of the IS Clinical skin regimes
Read Andrea's iS Clinical Pro Heal Serum Review.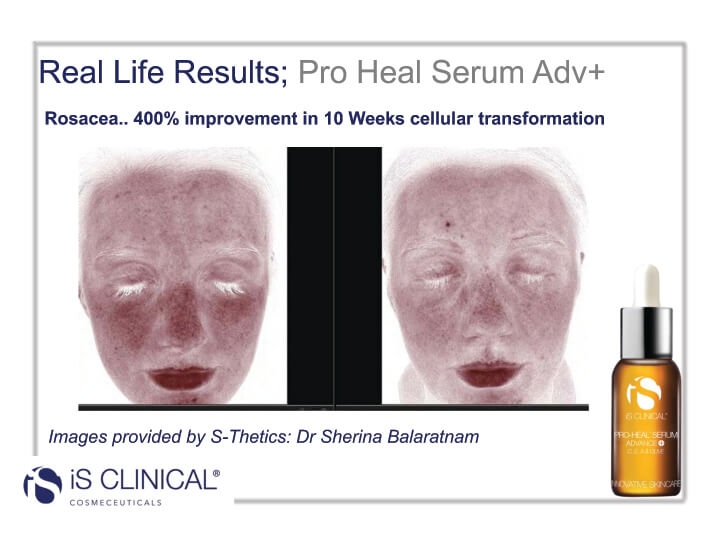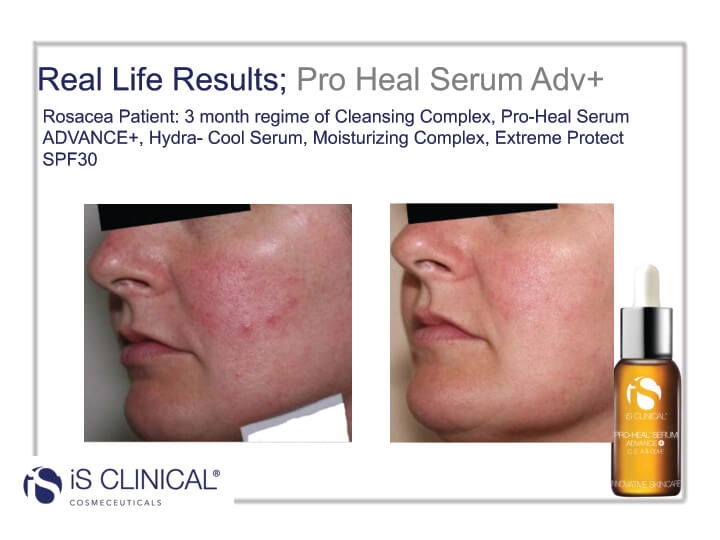 Rosacea White Paper & PiS Clinical's Pro-Heal Serum Clinical Study (PDF file).
Similar Products You May Like
Do You Experience Any Sensitivity?
Yes

Only Around The Eyes

Facial Areas

No
Do You Experience Acne Breakouts?
Which Of These Skin Conditions Are You Concerned About?
Redness

Oil Control

Large Pores

Dull Complexion

Dark Spots

Sun Protection

Fine Lines

Firmness/Lift/Elasticity
Search Product By
Skin Type