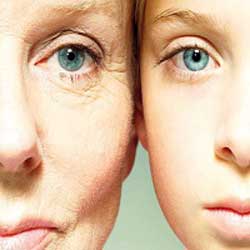 Sensational Skin at every age!
The last twenty years or so have seen an incredible amount of research and development in the field of skincare. If we knew twenty years ago, what we know now about the importance of skin care maintenance, would it have made a difference to the way we looked after our skin? Imagine if we had all avoided the sun, not smoked and made a point of drinking two litres of water every day, one has to wonder how much younger we would look today. On the flip side, because of all our mistakes in the past we have built an enormous health and beauty industry specifically to counteract our bad skin etiquette.
Caring for your skin from an early age with correct products and effective treatments will help delay the signs of age which occur as cell renewal begins to slow down. Regular exfoliation followed by moisturisation is the key to boosting cell renewal. We can help you with your skincare routine, with our line of professional products which are designed to help you achieve beautiful skin, no matter what your age.
Twenty something skin
Lucky you! Skin is at its best in our twenties. So start taking care of your skin now and you'll look twenty years younger when you are in your forties!
TIPS :
- Protect your skin from the elements. This means making sure you use a high factor sun screen daily. Sun Protection Products
Use a daily moisturiser containing SPF of at least 20.
Skinceuticals Ultra Facial Defense sunscreen SPF50 - It offers all that the skin needs from sun protection to effective hydration.
Use a moisturiser with added antioxidants. When skin is exposed to environmental pollution, it can increase the presence of free radicals which accelerate ageing. Antioxidants can fight these free radicals and prevent premature ageing. Jan Marini Antioxidant daily face protectant SPF 30 or Heliocare 360 oil free
Combine antioxidant moisturisers with a sunscreen - it's the ultimate in skincare for twenty-something's.
For Super Antioxidants try Medik8 Vitamin C serums

- Use a gentle moisturising cleanser instead of soap, as soap causes premature ageing, skin irritations and allergic reactions.
- Don't forget to hydrate from inside too. Drink at least 6-8 glasses of water every day. If you smoke, stop now!
Thirty something skin
This is the age when you can start to notice the signs of ageing, as oil production decreases. For many, the first signs include fine lines, creases around the eyes begin to appear and the skin starts to show dullness and dryness. Sun worshipers may have sun spots and discolouration. Creasing of the skin from repeated muscle activity (frowning) can start to show now, with a central frown furrow, lines across your forehead and crows feet. This is the time to make your skin work harder for you rather than let it start to slow down.
Tips:
- Exfoliating your skin can work wonders at this age. Products which contain AHA'S (alpha hydroxyl acids), such as glycolic acid and BHA's (beta hydroxyl acid) such as salicylic acid, increase skin exfoliation by shedding the top layer's dull, dead cells, helping the skin to appear smoother and feel softer.
Jan Marini Bioglycolic Facial Cleanser

- Add an eye cream into your routine to help reduce the signs of puffiness, lines and dark circles.
Our range of Eye Products

- This is the time to boost hydration.
Try Dermaceutic hyla ceutic
Look at our range of Moisturising / Hydrating products
Forty something skin
Once we hit our forties our fine lines become deeper, hyper pigmentation increases and the dreaded sagging begins. The skin will become visibly drier and begins to lose some of its tone and elasticity. Now is the time to energise and rejuvenate your skin, and get the glow back to reveal a youthful luminescence and firmness.
Tips:
- Start using more intense moisturisers and anti-ageing products, which help to improve tone and texture.
To help lift and tighten the skin, try Jan Marini – C-ESTA face serum or Jan Marini peptide extreme face lotion.
For the ultimate all in one anti-aging product it has to be Jan Marini Regeneration Booster Face Lotion and AQ Skin solutions GF Active serum , which contains growth factors and potent antioxidants, peptides and other innovative anti-aging ingredients to regenerate your skin.
Improving the appearance of fine lines, wrinkles and the overall tone and texture of skin.


- Consider investing in regular microdermabrasion and peels to refresh and revitalise your skin.
Fifty + skin
The down side to hitting fifty is the appearance of age spots and the lack of natural oil production. You will see significant changes in your overall facial structure - a loss of collagen and looser skin are the culprits. Those who have exposed their skin to cigarette smoke and the sun in earlier decades will suffer the most. So you should protect and moisturise, partly to delay the onset of more lines, but also because well hydrated skin looks less wrinkly.
Tips:

iS Clinical Youth Complex - Exfoliating, Anti-aging moistursier all in one OR Youth Intensive creme


Try a Retinol at night - Helps stimulate cell regeneration and build collagen to diminish the appearance of fine lines, wrinkles and age spots from both photo-and intrinsic aging


Correct pigmentation problems with iS Clinical white lightening Complex or Dermaceutic yellow cream

Hydration has never been more important. Try adding a more hydrating agent such as hyaluronic acid. Medik8 hydr8 B5 underneath your moisturiser.

Donot forget your sun protection.

The most important thing at any age is water. As long as you drink between 6- 8 glasses of water a day, this will have a huge effect on your skin. It 's not just about using products - it's about caring for your skin the best you can so that it will be in better condition to accept the nutrients and protective agents you are trying to give it. You will then see a positive difference in the way your skin reacts to your daily skincare routine.