SkinCeuticals Ultra Facial Defense SPF 50+
RRP £41
Now with Reinforced Broad Spectrum Protection
- High Protection Facial Sunscreen
- Protects skin from hyperpigmentation and photo-aging
- No whitish effect
- Long lasting hydration
- Can be used as a daily moisturiser
- Suitable for all skin types.
- Paraben-Free
PROTECT
SkinCeuticals Ultra Facial Defense SPF 50+

PPD 18 (permanent pigment darkening)

PROTECTS SKIN FROM HYPERPIGMENTATION AND PHOTOAGING

Why do they recommend a daily UV protection?

Because: UVB rays are responsible for sunburn

UVA rays:
Represent 95% of the UV that reach our skin
Are blocked neither by clouds nor windows
Generate free radicals that cause a chain of oxidative damages
Oxidation of skin's pigments, skin darkening and more visible brown spots
Damage of fibroblasts, cells that produce collagen and elasin lines and lack of firmness on the skin surface
Size: 30ml

Benefits:
- Hypoallergenic and non-comedogenic formula
- Designed for all skin types
- Good make-up base
- No whitish effect
- Long lasting hydration (12 hours)
- Fragrance Free

Directions:

Suitable for all skin types.
Use daily, as required. Can be used as a daily moisturiser.

Titanium Dioxide
Mexoryl SX™ and Mexoryl XL™ ( protects against damaging UVA rays proven to cause premature signs of ageing.)
UVA & UVB Filters

In the Press
London Evening Standard
Take a read of Julies product review here..

Which Sunscreen?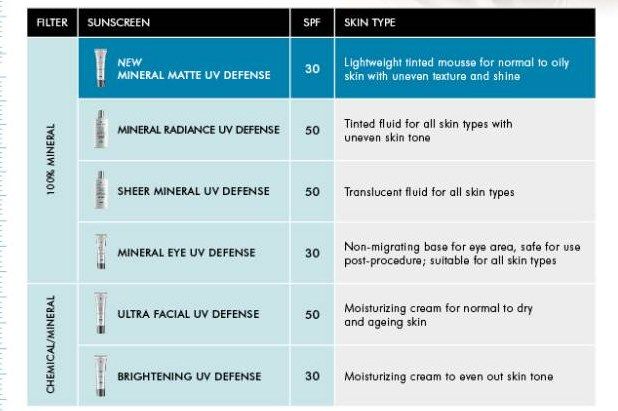 Ingredients

| | |
| --- | --- |
| Ingredients | |
Keeps my skin moisturised and well protected without any sunburn - a good product
This is the best moisturiser with spf 50 and its not greasy and love the feel that it leaves my skin feeling moisturised and it also has the protection in it.
This is the best moisturiser with spf I've ever used. It's very gentle on your skin with no irritation or greasy feel at all. I wouldn't use anything else.
i love this face cream my face feels soft and silky and not oily plus the spf 50 for sun protection is fab.
Bought this to wear under make up for a wedding. Looked a bit shiny on its own but was a good base for foundation.
I love this product and all product from Skinceuticals because i have notice real change on my skin,it looks much better and shiny.
Leaves the skin moisturised, not at all heavy with no residue. Recommended!
This is the best high factor face cream that I have used. It goes on smoothly and is perfect under make up.
I have been using Skinceuticals UV creams for several years and this is probably my favourite. It is non greasy and does not cause breakouts. I like that it does not leave any white film and make up goes over it easily with no "pilling". I wear UV protection all year round and do not have any age spots on my skin despite being in my 60s.
My wife says the cream is very good but would work better through out the summer
I have used this product for a couple of years. It's light, lasts a long time and doesn't cause spots as other sunscreens I've used have done.
Lovely cream, not heavy just glides on. I've been using it for a very long time and will continue to do so. I use it all year round, just in the morning after cleansing.
A lovely, light sun-screen. I use winter and summer, it's light and has a great texture. It doesn't 'sit' on the skin, or feel heavy, or clog up pores.. It can also double-up as a moisturiser if you don't have dry skin.
This really works, I have sensitive skin which burns easily and this never fails to protect my skin.
Great sunscreen, absorbs into the skin easily and reapplication during the day leaves my skin protected.
The product met all my partners expectations and she is happily using the product
Refining night cream- it is early days yet haven't noticed any changes. Skin feels soft,. Facial defence spf 50 - great product under make up not dry at all.
Refining night cream- it is early days yet haven't noticed any changes. Skin feels soft,. Facial defence spf 50 - great product under make up not dry at all.
Happy to use this cream. Great under make-up face not dry.
I am returning to buy this cream yet again. It is brilliant. Have used in all climates and its protection is superb. Finally writing a review!
Lovely cream, only used for 2 weeks alongside Skinceuticals 0.3% retinol night cream and seen a difference already.
Thank you for your feedback and I am glad the product is working for you. Here is your 5% discount code RVIEW5P (use it at checkout page) Please make sure you are registered and logged in to get it. If you are not registered please follow this link - https://www.dermacaredirect.co.uk/customer/account/create/ Thanks again Kind regards, Deepa Customer Service Manager www.dermacaredirect.co.uk
Easy to apply, not greasy and makes a good base for foundation. I feel confident that I am protecting my skin from the sun with this product and use it every day.
I love this product. It is not greasy, absorbs into your skin and is very light. Definitely recommend!
Good product great on the skin recommend this to anyone looking for sun protection
This has clearly helped with my skin condition as I ahve sensitive skin which reacts to uv rays. the cream is clear and does not leave looking opaque.
I use this product under my makeup. It doesn't leave a white residue and goes on smoothly. Quite expensive but it does a great job of protecting your skin.
I use this product every day. It's comfortable to use not greasy, lasts ages and I feel confident it is protecting my skin.
Sorry no video available.