HydroPeptide Power Serum - Line Lifting Transformation 30 ml
(formerly Serum Anti-Wrinkle Cellular Transformation)
IN A 6 WEEK STUDY, 100% OF PARTICIPANTS NOTICED A REDUCTION IN THE APPEARANCE OF FINE LINES AND WRINKLES. (POWER SERUM COMBINED WITH POWER LIFT)
What it is: A collagen-boosting treatment serum that transforms your skin.
What it's used for: HydroPeptide Power Serum Line Lifting Transformation blends 6 different peptides to fight the visible signs of aging. Genetic growth factors optimize cell renewal to increase firmness and elasticity as vitamin A diminishes fine lines and wrinkles. Glycerin delivers lightweight hydration which helps hyaluronic acid plump the skin with illuminating moisture. Oat proteins reduce inflammation to leave your skin looking smooth and youthful.
Features:
13 Peptides: Volumizing, Plumping, Relaxing, + Preservative Peptides
Growth Factor Communicators: Crocus Chrysanthus Bulb
Alpha Lipoic Acid
Action:
Boosts lost fatty tissue volume, improves proteins in DEJ, stimulates collagen, boosts cell energy and nourishes while reducing the repetitive muscle contractions that cause expression lines
Send signals from epidermis to dermis to activate fibroblasts for increased elastin and collagen
Antioxidant shown to increase CoQ10 and providing anti-inflammatory effects
Benefits:
Increases skin volume to fill look of fine lines and deep wrinkles, helps lift and firm sagginess while reducing the appearance of expression lines
Increases firmness and elasticity while reducing the appearance of wrinkles
Increases skin strength, delays signs of aging and promotes a youthful complexion
Directions:
USE AM AND PM. USE POWER SERUM IN THE PM FOR STEM CELL PROTECTION AND HYDROSTEM+6 IN THE AM FOR THE ULTIMATE ANTI-AGING COMBINATION.
APPROPRIATE FOR ALL SKIN TYPES, SAGGING,DEEP WRINKLED, AND AGING SKIN.
PERFECT PARTNER PRODUCT
POWER LIFT: ULTRA RICH MOISTURIZER
AWARDS
SHECKY'S, LNE, AND SPA PROFESSIONAL MEXICO "BEST SERUM"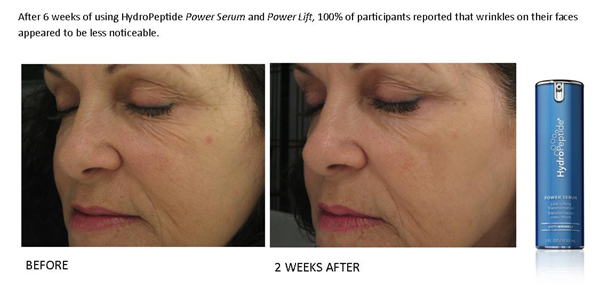 Similar Products You May Like