Mene & Moy Yellow Peel Lip Balm
RRP £98
- 2 phase lip augmentation system
- increases lip volume
- reduces wrinkles around the lips
- restores natural lip colour.
Mene & Moy Yellow Peel Lip Balm - A two phase system to enhance and plump the lips without the use of injectables:

- Recovers the volume of the lips
- Reduces the wrinkles and dryness of the labial mucous
- Moisturises the labial mucous
- Restores the natural colour of the lips
- Provides young looking lips
- Avoids appearance of pre-cancerous lesions

Size: 6g

Directions:
Prepare the lips by washing thoroughly with fresh water. Dry with a clean flannel or towel, gently rubbing the lips. This is to ensure that all traces of lip-stick,make-up etc are removed & to stimulate the blood supply to the area.

Apply the Yellow Peel Balm sparingly to the upper & lower lip using the tip of a clean finger. Be sure NOT to apply to the moist corners of the mouth. This may be followd with a lipstick containing Sun Protection Factor.
Re-apply the balm every hour up to 6 times per day. It is not necessary to wash the lips for re-application although lip-stick should be removed.
Continue until the lips obtain the desired voloume & a young healthy appearance.
At night always use the BARRIER LIP PROTECTOR.

Phase 2:
After completeing Phase 1, (Above) use the BARRIER LIP PROTECTOR cream several times a day for the next 2-3 days and ALWAYS at night.

Maintenance:
To maintain the results after the Moisturising Phase, continue to use the YELLOW PEEL BALM indefinitely 2-3 times a day. Use Barrier Lip Protection as required whenever the lips feel dry or sensitive.

Contra-Indications:
Not to be used during pregnancy, if suffering from cold sores active or latent. Not to be used on broken or damaged skin on or around the lips.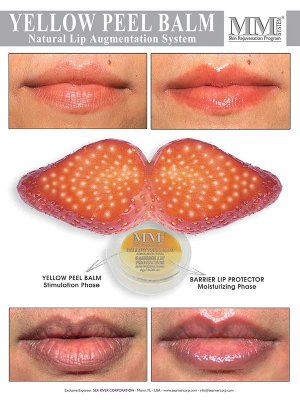 What the press are saying......
Click here to view the Mene & Moy Yellow Peel Lip Balm review in the Mirror Online
Click here to read Jade's Review of the Mene & Moy Yellow Lip peel


You May Also Like