Moisturisers/Sunscreens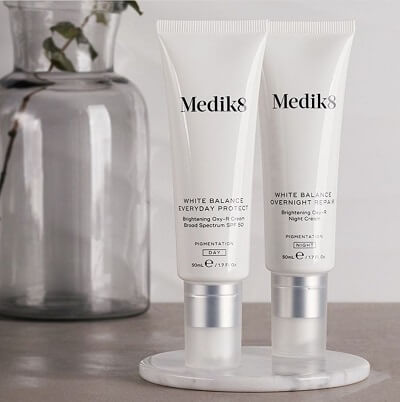 Moisturisers
Medik8 moisturisers offer far more than simple hydration. They reveal smooth, supple and younger-looking skin. Each one works to deeply nourish, protect and hydrate the skin. With a comprehensive range of creams and serums to target specific skincare concerns, you can choose a moisturiser tailored to your specific needs.

Sunscreens
It is estimated that 80% of premature
Moisturisers
Medik8 moisturisers offer far more than simple hydration. They reveal smooth, supple and younger-looking skin. Each one works to deeply nourish, protect and hydrate the skin. With a comprehensive range of creams and serums to target specific skincare concerns, you can choose a moisturiser tailored to your specific needs.

Sunscreens
It is estimated that 80% of premature ageing is caused by the sun. That's why Medik8's core anti-ageing philosophy prescribes everyday sun protection as an essential step to preventing skin ageing. Forget that greasy beach texture. Blended using premium UV filters, you wouldn't even guess Medik8 formulas even contain sunscreens. Lightweight and beautifully sheer, it's never been easier to find and enjoy your perfect protection from the sun.
(Read More)
Do You Experience Any Sensitivity?
Yes

Only Around The Eyes

Facial Areas

No
Do You Experience Acne Breakouts?
Which Of These Skin Conditions Are You Concerned About?
Redness

Oil Control

Large Pores

Dull Complexion

Dark Spots

Sun Protection

Fine Lines

Firmness/Lift/Elasticity
Search Product By
Skin Type