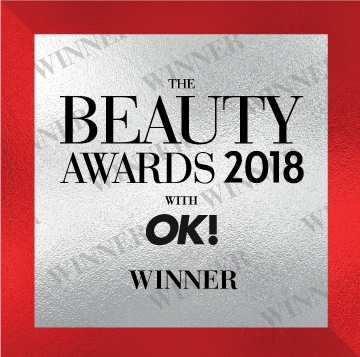 DermaTx is an award winning advanced skincare range specially formulated for skin
DermaTx Blemish Control System - DermaTx Microdermabrasion and daily cleansing system
Exfoliation is one of the most important skincare steps for healthy, radiant skin. Regular exfoliation removes dead skin cells providing immediate and visible results to reduce the appearance of fines lines and wrinkles, open pores, pigmentation, acne scarring, and so much more.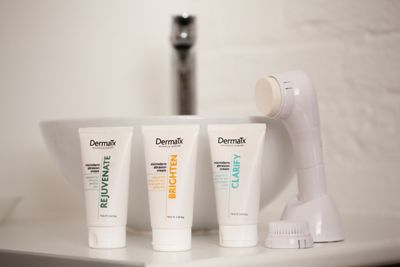 DermaTx Blemish Control System contains:
DermaTx Clarify Microdermabrasion Cream 75ml (3/4 month supply)
DermaTx Clarify Salicylic acid cleanser 200ml
1 x Water Resistant DermaTx Facial Tool
1 x cradle
1 x exfoliating foam head
1x Cleaning brush head
Manual
1 year Warranty for the device

Refill products and attachments are available to purchase separately.
BENEFITS:

– Salicylic acid exfoliates the skin and reduces acne-associated inflammation

– Decongests clogged pores to help reduce breakouts

– Reduces oil production, diminishes pore size and prevents blackheads

– Minimises the appearance of post-acne discolouration and scarring

– Calms inflammation and irritation and reduces redness

– Enhances absorption of skincare products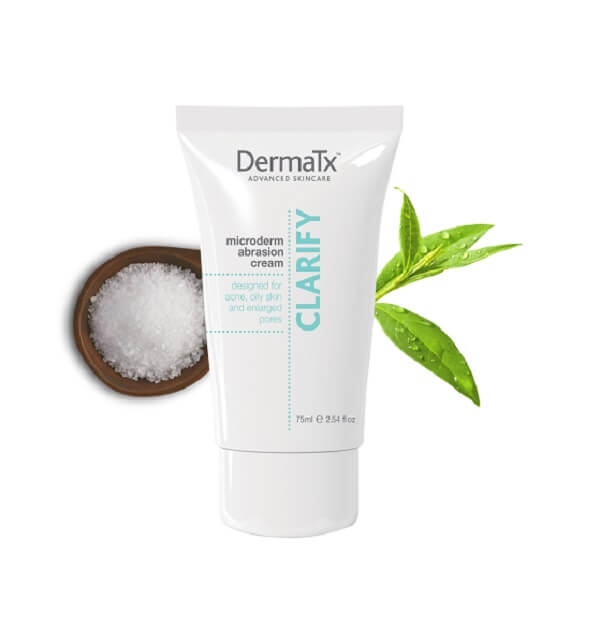 DermaTx Clarify Microdermbrasion Cream - Designed for acne, oily skin and enlarged pores.

DermaTx Advanced Skincare brings you the benefits of microdermabrasion by introducing its range of microcrystal cosmeceutical creams for use in the comfort of your own home.

Clarify Microdermabrasion Cream contains professional grade corundum crystals, as used in salon microdermabrasion machines for exceptional skin resurfacing results.

Clarify has the additional benefits of 2% Salicylic acid, Vitamin A and Tea Tree Oil for fighting bacteria and excess oil. With Vitamin C to help fade post-inflammatory hyperpigmentation. Anti-inflammatory and soothing ingredients help reduce Inflammation and redness.

Tool for application:
When the DermaTx Microdermbrasion cream is applied to the specially designed foam attachment the crystals become embedded in the "micro-pores" of the foam. This ensures that the crystals will haven even movement over the surface of the skin and will be utilized to their maximum refining capabilities.
Micro-massaging of the corundum crystals in DermaTx Microdermabrasion Creams provides a superior microdermabrasion treatment, and allows the ingredients to penetrate deeper into the skin.
Use 2-3 times a week

DermaTx Clarify Salicylic acid cleanser
Deep purifying cleansing gel formulated with acne-fighting 2% Salicylic Acid. Exfoliates the skin to unclog pores, helping to control acne and prevent future breakouts.
Use once or twice a day. For best results cleanse with power cleaning device once a day.
Do not use as an eye make-up remover.
Paraben Free
Dermatologically tested
SLS Free
Alcohol Free
fragrance free
Not tested on animals
Caution: Not suitable for sensitive skin types. Do not use if you have an allergy to aspirin, are pregnant or breast feeding. Do not use on Rosacea, Open Sores, irritated skin or other dermatology skin conditions. Some breakouts may occur initially due to purging of the follicles.
Daily use of sunscreen is recommended when using Alpha Hydroxy Acid (AHA) products and Beta Hydroxy Acid (BHA) products due to increased skin sensitivity to the sun.
In the Press....
Magazine Press
Beauty Bloggers Reviews
Andrea's Review of the DermaTx Microdermabrasion Brighten System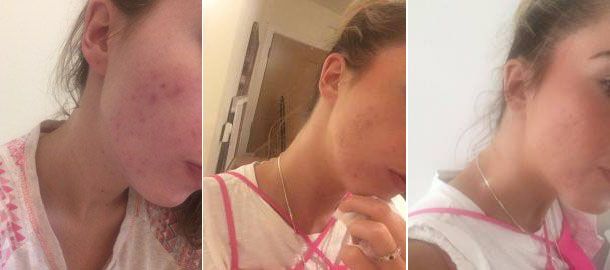 Only a few months of use
Click here for full article - A Daily Dose of Holly - MY SKINCARE MIRACLE
Similar Products You May Like