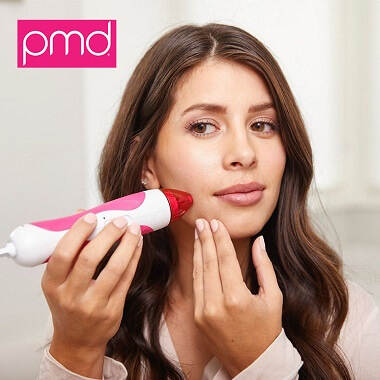 The PMD Personal Microderm home tool can offer you the extraordinary professional results of a professional microdermabrasion treatment but from the comfort of your own home.After the first initial treatment, skin can feel softer with a glossy, bright shine and can transform your skin with just a single use.
After a 8 to 12 weeks, an amazing transformation of the skin can be achieved including the reduction of lines, wrinkles, dark spots, sun damage, hyperpigmentation, large pores, blemishes and the skins tone and texture may appear more even and feel smoother.
How PMD Personal Microderm tools benefit your skin:
- Spinning disc technology & aluminum oxide crystals remove the top layer of lifeless, dull skin. (Oxide crystals are the most   popular choice used by skin professionals for microdermabrasion treatments)
- As the dead skin has been removed, skincare products can now be absorbed by the skin to moisturise and soften the skin
- New, healthy skin cells replace the dead ones that have been removed from the skin
- The vacuum clears out clogged pores that have trapped dirt and oil under the skin
- The tools vacuum suction repairs and replenishes the skin
- The vacuum suction then prompts the body to produce collagen & elastin
  As a simple, and easy to use product that can be used at home, the PMD tools have become a consumer favourite that reduces signs of aging significantly and leaves skin with a beautifully soft surface texture.