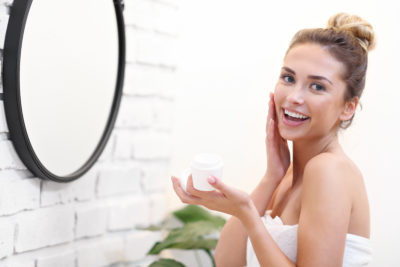 An exfoliant aids to restore the natural process of
skin turnover.
In gently removing dead skin cells it can unclog pores
helping to prevent breakouts, encourage
collagen production and rehydrate the skin resulting in healthy rejuvenated
skin.
- Minimising the appearance of fine lines and wrinkles
- Improving skintone and texture
- Increasing hydration
- de-clogging,
refining and reducing enlarged pores
Which Exfoliate?
All exfoliates
whether it's a AHA - Alpha Hydroxy Acid (Glycolic
acid, Lactic Acid), PHA - Polyhydroxy acids ( gluconolactone lactobionic acid) or a BHA- Beta-Hydroxy
Acid (salicylic acid) help reduce wrinkles, pores,
improve skin tone & texture by stimulating the production of collagen.
Exfoliating acids are a common additive to numerous skin care
products including moisturisers, cleanser, toners, peels, and masks.
Recommended for:
- Sun damaged skin
- Ageing skin
Benefits:
- Removes dead skin cells on the
skin's surface
- Improves skintone & texture
Recommended for:
- Dry skin types
- Sensitive Skin types (cannot tolerate
glycolic acid)
Benefits:
- Increases skin hydration
- Improve
skintone and reduced pore appearance
Recommended
for:
- Ezcema or dry skin condition
- Rosacea-prone skin
- Sensitive skin
Benefits:
- Gentler
on the skin & less irritating
- helps strengthen skin barrier function
- Antioxidant properties
Recommended for:
- Oily skin

- Acne and breakouts
- Enlarged pores
- Acne Rosacea-prone skin
Benefits:
- Removes dead skin cells on the surface and in the pores

- Fights breakouts, Milia and enlarged pores

- Anti-inflammatory properties
Do's & Don't of using an exfoliate:
- Increase % slowly start low and work up
- Trial with different strengths of
exfoliates to see which concentration gives you the best results
- Don't introduce all exfoliating products at
once
- Don't use around the eye area or to remove
make-up
- Make sure you are applying sunscreen daily
Caution: When you initially start using exfoliating products you can experience breakouts, flaking and tinglying.
If you're still a bit confused about which exfoliant to choose,
contact our advice team for help
Andrea