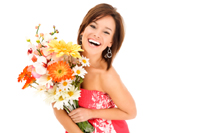 Spring Clean! No, not just for your home, but your skin from inside out.
Throughout the winter months our skin may take on a dull, grey appearance and lack the vitality we long for. This could be due to a build up of toxins, little exercise and a poor diet (thanks to Christmas & New Year) as well as an out of tune skincare regime!

Detox your skin from inside and out to revive a healthy glow:
1. Eat plenty of fresh fruit and vegetables to give your skin the nourishment from the inside that it needs.
2. It's essential to drink plenty of water daily in order to flush out impurities and keep your skin hydrated and healthy.
3. Treat yourself to an at-home microdermabrasion system to really exfoliate your skin for brighter, smoother, even-toned & healthy-looking skin.
4. Spring is also the time for your skin to begin to adapt itself ready for the heat and humidity of the summer, so you may need to begin to switch to lighter products.