Dermaroller tips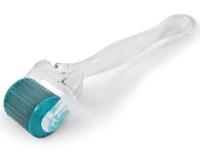 The Dermaroller (also called skin rollers, microneedle rollers, and dermarollers) is a small hand-held rolling device which has micro surgical steel needles that reach the inner surface of your skin to promote skin repair from the inside out. It stimulates elastin and collagen production in the skin without causing any damage.
Clinical studies have shown skin needling (clinical use) to be more effective than laser resurfacing, dermabrasion and chemical peels, without any of the side effects or downtime and is a fraction of the cost.
Two types of needles – home use & clinical use.
Home use (0.2mm & 0.3mm needles length) - Increased penetration of skin care products into the skin and overall improvement of skin colour, texture and fine lines. please click to view our home use rollers.
Clinical use (1.0mm, 1.5mm, 2.0mm, 2.5mm, 3.0mm) – treats scars, scalp, wrinkles, sun damage, stretch marks and cellulite.
You may want to consider having a professional course of needling before trying out a roller yourself.
Effective products to use with your home use roller:
I would probably go for a medik8 0.3mm roller as long as you haven't got very thin skin. If you have thin skin use 0.2mm
I have found that some of the best ingredients to use with a dermaroller are collagen stimulating ones - Vitamin C, Vitamin A, Peptides and Growth Factors
How to apply them will depend on whether it's a cream or serum; serums can be applied prior to rollering and creams after.
1/cleanse
2/ apply serum
3/roller
4/ OR apply treatment cream (retinol, vitamin c)
5/moisturiser
Use the needle at night
Use 0.2mm/0.3mm roller/stamp about 2/3 times a week.
Please ensure you use the sterilising solution
Ensure you apply your sunscreen daily.
Please make sure you only buy rollers from professional companies as there are many dodgy companies selling cheap needles on the web!