Boys' Catch The Beauty Bug!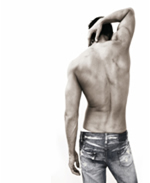 It would appear that the modern man has been bitten by the beauty bug!
Gone are the days when men would quickly wash with soap and water only to appear in the local five minutes later.
Today, as the male population thrust themselves into the 21st century a seemingly more rigorous hygiene routine is in place.

Men's grooming products seems to be really taking off, with the wide variety of male skin care products on the market. UK sales of male beauty products have grown by a third in just five years!

The key difference between men and women's skin is that men shave. Shaving damages the stratum corneum, reducing skin barrier function and skin hydration, making the skin feel tight and dry. Men are more vulnerable to sun damage because they don't always take the same sun protective measures that women do.

Skin products for men should have ingredients that reduce redness, inflammation, irritation, fine lines and wrinkles - just like skincare products for women! Of course, male skin products should have the ability to protect the skin from the sun's damaging rays.
Skincare Ingredients to avoid
• Alcohol ingredients (Ethanol, methanol) can dry out or even irritate your skin.
• Mineral oil is another item to avoid. It ends up clogging the pores and then causing acne, and dryness.
• Fragrances should also be avoided. These are often toxic or even carcinogenic which may result to irritation, rash or hyperactivity.
Skincare Ingredients to look for
• Anti-inflammatory agents.
• Antioxidants.
• Moisturising factors.
• And of course, UV protection.

Market research indicates that men want products that work. It's not just personal hygiene that's top priority in the man's life.Today, skincare, hair care and dare I say it, manscaping are all routine.