Jan Marini Skin Care Management STARTER SYSTEM - Normal/Combination Skin
RRP £168.00
New Beauty Award WINNER nine times!

Jan Marini Skin Care Management Starter System - Normal/Combination
- Suitable for normal/combination skin.
- Paraben-Free

J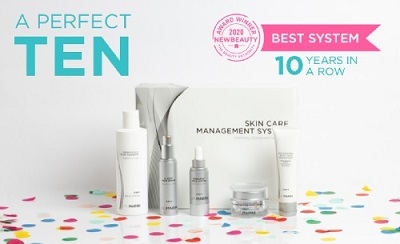 Jan Marini Skin Care Management Starter System - Normal/Combination

The new Starter Systems are also great for travel because they are compliant with T.S.A. carry on regulations.

Experience dramatic transformation in your skin with The Skin Care Management System and see firsthand why it has been voted "The Best Skin Care System" for the second straight year in NewBeauty Magazine's Annual Beauty Choice Awards. This revolutionary system utilizes synergistic layered technology to comprehensively address all the skin's needs for measurable improvement in the appearance of common skin conditions such as fine lines and wrinkles, acne, rosacea, and skin discoloration.

The Skin Care Management System was designed for prolonged use with little to no irritation or acclimation. The System is easy and intuitive to use with immediate improvement observable from the first application. Over time skin will appear noticeably smoother and healthier. By following the easy daily regimen, results will be sustained and improved over time.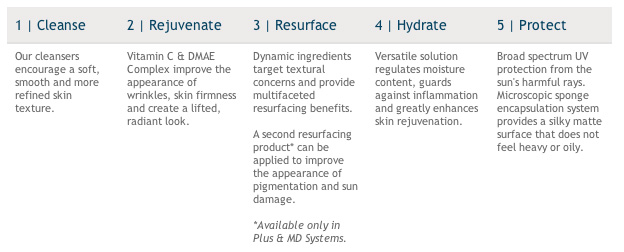 Each pre-packaged Skin Care Management System includes five pre-selected Jan Marini products with home care usage instructions.

Key Benefits of Skin Care Management System:
• Non-irritating
• Easy to use
• Long-term solution
• Addresses multiple skin care concerns






Combination/Normal Skin Kit Includes:
•Step 1 Cleanse - Bioglycolic Face Cleanser (3 fl. oz.)
•Step 2 Rejuvinate - C-ESTA Serum (0.5 fl. oz.)
•Step 3 Resurface - Bioclear Lotion (0.5 oz.)
•Step 4 Hydrate - Transformation Cream (0.5 oz.)
•Step 5 Protect - Antioxidant Daily Face Protectant SPF 30(1 oz.)

For more detailed product information go to the individual product pages by clicking on the products below

STEP 1 - Bioglycolic Facial Cleanser
Use in the morning and evening. Use on dry skin. Apply small amount (1 pump) massage over the face and neck area. Leave on the skin a for a couple of minutes, water maybe added now to create lather. Rinse face and neck well and blot dry. Do not use as an eye make-up remover.
Treat yourself to a daily facial! Pair with DermaTool Pro for a deep-cleanse.

STEP 2 - C-ESTA Serum,
Shake bottle well. Apply sparingly morning and evening to clean skin. Apply over entire face, neck and behind ears.

STEP 3 - Bioclear Facial Lotion
Cover the entire affected area with a thin layer one to two times daily. Because excessive drying of the skin may occur, start with one application daily, then gradually increase to two times daily if needed or as directed by a physician.

STEP 4 - Transformation Cream
Apply sparingly in the morning and evening over entire face and neck.

STEP 5 - Antioxidant Face Protectant SPF 30 Waterproof
Apply generously and evenly 30 minutes before sun exposure. Apply and reapply as directed to avoid lowering protection. Children under 6 months of age: ask a doctor. Reapply after 80 minutes of swimming or perspiring and after towel drying. Otherwise, reapply at least every 2 hours.

Jan Marini Skincare Management System Study (PDF)