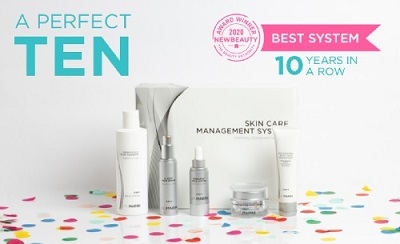 The Skin Care Management System
Experience dramatic transformation in your skin with The Skin Care Management System and see firsthand why it has been voted "The Best Skin Care System" for the second straight year in NewBeauty Magazine's Annual Beauty Choice Awards. This revolutionary system utilizes synergistic layered technology to comprehensively address all the skin's needs for measurable improvement in the appearance of common skin conditions such as fine lines and wrinkles, acne, rosacea, and skin discoloration.

The Skin Care Management System was designed for prolonged use with little to no irritation or acclimation. The System is easy and intuitive to use with immediate improvement observable from the first application. Over time skin will appear noticeably smoother and healthier. By following the easy daily regimen, results will be sustained and improved over time.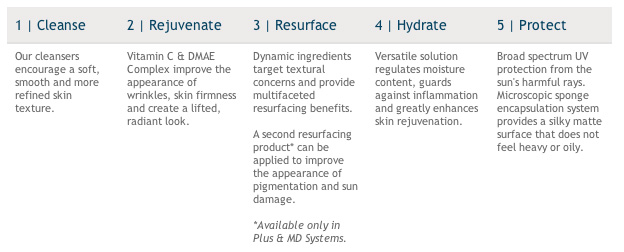 Each pre-packaged Skin Care Management System includes five pre-selected Jan Marini products with home care usage instructions.

Key Benefits of Skin Care Management System:
• Non-irritating
• Easy to use
• Long-term solution
• Addresses multiple skin care concerns






For more detailed product information go to the individual product pages by clicking on the products below

Jan Marini Skin Care Management System for Normal to Combination Skin

Kit Includes:

STEP 1 - Bioglycolic Facial Cleanser, 237ml
A gentle cleanser suitable for all skin types. This formula is soap-free, non-irritating and rinses completely without the need for a post-cleansing toner or astringent. May be used AM and PM. Do not use as a makeup remover.
Treat yourself to a daily facial! Pair with DermaTool Pro for a deep-cleanse.

STEP 2 - C-ESTA Serum, 30ml
A readily absorbed serum to smooth the skin's texture and make skin more supple. Apply AM and PM to clean skin. Apply over entire face, neck and behind the ears.

STEP 3 - Bioclear Facial Lotion, 30ml
A revolutionary lotion that that produces exceptional benefits for adult acne, acne scarring, inflammation, discoloration, enlarged follicle openings, the appearance of wrinkling and textural changes due to cumulative sun exposure.
Apply once or twice aday

STEP 4 - Transformation Cream, 28g
A superb moisturizing base containing advanced supplemental agents along with selected protective emollients. Absorbs immediately, leaving a silky and refined texture
Apply once or twice aday

STEP 5 - Antioxidant Face Protectant SPF 30 Waterproof, 57g tube
Combines a revolutionary microscopic sponge encapsulation system, state of the art sun protection, a powerful antioxidant component and a superb hydrating complex.
Apply in the morning.

Jan Marini Skincare Management System Study (PDF)



Skin Care Management System™
STUDY DESIGN

• 32 female subjects between 23-62 years old assigned into one or more of the following categories: Acne, Hyperpigmentation, Rosacea, Overall Skin Rejuvenation
• Subjects were instructed to use the SCMS as directed morning and evening

CONCLUSION

• 100% of subjects showed visible photographic improvements
• 100% reported that they would continue to use and purchase the SCMS
• 87% of subjects' immediate family and peers noted visible improvements
• 31 of 32 subjects observed no acclimation period
Author: Jan Marini Skin Research, Inc.

What the press have to say.....
Beauty Blogette
Similar Products You May Like
Do You Experience Any Sensitivity?
Yes

Only Around The Eyes

Facial Areas

No
Do You Experience Acne Breakouts?
Which Of These Skin Conditions Are You Concerned About?
Redness

Oil Control

Large Pores

Dull Complexion

Dark Spots

Sun Protection

Fine Lines

Firmness/Lift/Elasticity
Search Product By
Skin Type