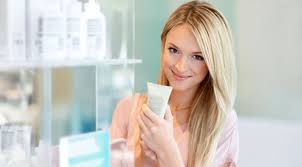 It's not easy buying skincare products, especially when dealing with pushy sales assistants! So I'd like to give you a couple of my skincare buying tips.
Sunscreen is one of the most effective anti-ageing products you can buy!
So start with a sunscreen and also a vitamin C serum. Vitamin C is a proven, beneficial addition to your skincare regime. The regular application of skincare products containing antioxidants in combination with sunscreen for protecting against the damaging effects of the sun are worthwhile.
An antioxidant helps to promote skin rejuvenation by reversing free radical damage caused by the sun, the environment and natural ageing. It also aids in stimulating collagen production within the skin and may also help sun spots. The benefits of antioxidants go far beyond their effects on keeping the skin healthy. It has been suggested that consumption of antioxidants can play a key role in the prevention of cancer.
The next step is to add a target product for your skin concern, such as wrinkles or dark spots or rosacea etc. Focus on one concern, making sure the product targets your concern with the correct ingredients of optimal strength.
You won't find a single product that treats all concerns. Using too many treatment products together at one time maybe too much for your skin and may cause irritation. Remember to introduce products slowly - don't introduce all the products in one go.
Most people start with buying a cleanser and a moisturiser, but I tend to get the important and key products first. When buying a cleanser and moisturiser make sure it's formulated for your particular skin type (oil free, dry, etc.)
The most important tip is select products in your price range. There's no point using products for a couple of months then using something cheaper next time.
Always buy from someone that is trained in skincare and preferably someone that isn't biased about one particular brand.
Go for cosmeceutical products rather than high street products as over-the-counter products do not contain the same high level of active ingredients as professional skincare ranges.
And lastly be realistic - have realistic expectations that you won't look 10 years younger with a cream - or that you can't get results of a facelift from a cream!