Skinade 30 day travel supply cotains 30 x 15ml liquid concentrate sachets.
Each sachet contains exactly the same level of essential nutrients as your Skinade regular. It's travel sized, so you can take it with you anywhere you go!

Just stir in the contents of the sachet into half a glass of cold water and drink.
Skinade™ - the anti-ageing liquid collagen drink that boosts production of natural collagen to improve skin's appearance in as little as 30 days. Each 15ml sachet contains a perfect ratio of liquid to active ingredients, making it one of the most advanced anti-ageing skincare product available.
Skinade™ doesn't contain bovine or porcine products, hormones, genetically modified organisms (gmo), alcohol, added sugar, artificial flavours or artificial colours.
What does this liquid collagen drink do?
Skinade delivers essential micronutrients in liquid form and aims to to re-build the collagen matrix in your skin. Skinade aims to combat signs of ageing by reducing oxidative stress, preventing cross linking of collagen fibres, increasing moisture and hydration, increasing natural hyaluronic acid production within the dermal layer of the skin. As a result Skinade aims to restore skin's youthful appearance, improves tone, texture, hydration, smooths furrow lines and promotes better skin suppleness.
How does it work?
Skinade is a drink that works from the inside out. Its six active ingredients work synergistically to promote optimal skin function. As a liquid supplement, its innovative formulation is highly bio-available, meaning that the body can absorb and make use of a higher proportion of the active nutrients. Skinade active ingredients are 100% in solution allowing for an absorption rate of 95%.

The class-leading, 2kDal patented hydrolysed marine collagen peptides used in Skinade, trigger fibroblast proliferation (firing up our natural collagen production) leading to increased skin thickness and therefore a reduction in fine lines and wrinkles. The hydrolysed marine collagen peptides also trigger the HAS2 receptors in the dermis which promotes the production of hyaluronic acid resulting in improved skin hydration. This dual action makes Skinade a highly effective skincare product.

After completing a course of Skinade, consumers have reported the following results:
Increased skin hydration and radiance
Reduced appearance of fine lines and wrinkles
Increased skin suppleness
Healthier looking hair and nails
Individual results will vary but, with continued use on a daily basis, your skin may continue to improve.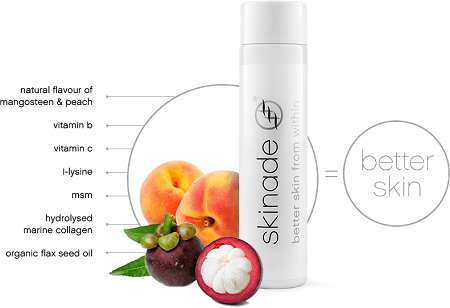 Skinade contains the following high-quality ingredients:
Hydrolysed Marine collagen peptides
Our high-grade hydrolysed marine collagen peptides are sourced from fresh-water fish, low in sodium and avoiding mercury contamination. We've included 7000mg in each bottle.

Vitamin C
Essential for natural collagen formation and maintaining the collagen matrix. It also provides vital protection for the skin by boosting the immune system and reducing free-radical damage.

MSM
Is a naturally occurring form of organic sulphur found in all living organisms. It helps collagen and keratin formation, improves skin elasticity and inhibits cross-linking of collagen cells, a major cause of skin ageing.

Vitamin B complex
Riboflavin (vitamin B2), niacin (vitamin B3) and biotin contribute to the maintenance of normal skin health. Vitamin B2 also contributes to the protection of cells from oxidative stress. Folic acid and vitamin B12 play a role in the process of cell division. Our vitamin-B complex promotes more uniform, clearer, glowing and radiant skin.

Omegas 3 & 6
We sources our omegas exclusively from organic flax seed oil that plays an important role in balancing dry and oily skin.

L-lysine
An essential amino acid that is key to rebuilding the collagen matrix at cellular level.

Skinade regular comes in a ready-to-drink 150ml bottle.
Each bottle provides a perfect ratio of liquid to active ingredients to create one of the most advanced anti-ageing skincare products available. Just open and drink!

Directions:
Great for everyone, especially menopausal , eczema, psoriasis, prior to surgery
Drink 1 bottle/sachet per day.

For Skinade to be effective, it needs to become part of your Skincare regime. For best results, we recommend that you drink one bottle each morning before or with breakfast. We would advise avoiding caffeine 1 hour each side of taking Skinade as caffeine can hinder the absorption of the essential micro-nutrients and collagen. If you're feeling tired during the course of the day, the B vitamins in Skinade will give you a natural energy boost.

Skinade is shelf stable and does not need to be stored in the fridge, but it tastes even better chilled.

Skinade comes in two versions: a ready-mixed 150ml bottle or 15ml travel sachets. Both products have exactly the same efficacy.

Don't take during pregnancy.
Not suitable for Vegetarians.
If taking a lot of medication please consult your doctor first.

Click here to read Emily's Review of Skinade Liquid Collagen Drink

Click here to read Kate's Review of Skinade Liquid Collage Drink
Similar Products You May Like