PREVENT
SkinCeuticals Promotion - for a limited time only!
Sunscreens alone only protect skin from 55% of the damage from the sun, however when combined with a topical antioxidant, the skin is offered up to 96% protection.

SkinCeuticals EXCLUSIVE Prevent + Protect promotion: Buy a C E Ferulic, + receive an Ultra Facial UV Defense SPF50 as a FREE GIFT! (worth £36)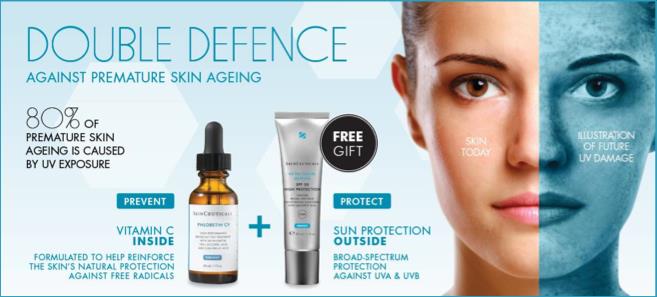 SkinCeuticals C E Ferulic Serum 30ml
This revolutionary antioxidant combination delivers an unprecedented 8 times the skin's natural protection against photoaging - neutralizing free radicals, helping build collagen, and providing unmatched antioxidant protection. More protection means more youthful looking skin and better defense against environmental aging. Containing 15% pure L-ascorbic acid and 1% alpha tocopherol, the addition of ferulic acid doubles the already synergistic benefits of our original high-potency formula, C+E, transforming it into an unrivaled super-antioxidant combination.
Size: 30ml

- Sunscreens only block 45-55% of free radicals, leaving skin vulnerable to environmental damage
- C E Ferulic provides 8x photoprotection and unprecendented anti-aging benefits
- C E Ferulic reduces sunburn cells up to 96% in UV irradiated skin
- C E Ferulic prevents thymine dimers, DNA mutations associated with skin cancer

Benefits:
multiple award-winning antioxidant product

- Maximum anti-aging results - better than any one antioxidant alone
- Neutralizes free radical damage and protects against oxidative stress - the factors that lead to premature aging, loss of elasticity and hyperpigmentation
- Once absorbed, can't be washed or rubbed off - excellent for use in conjunction with sunscreens

Directions:

Suitable for Normal to Dry, aging and rosacea skin types.

Once in the morning after cleansing, apply 4-5 drops to a dry face, neck and chest. Follow with a moisturiser and sunblock. Daily application of this cutting-edge serum, along with the use of a broad-spectrum sunblock, offers ultimate protection from UV light and associated skin damage.

Breakthrough antioxidant combination of 15% pure L-ascorbic acid (Vitamin C), 1% alpha tocopherol (Vitamin E), and ferulic acid for advanced antioxidant performance.

Start low (application amount) and go slow (frequency of use).
On any sign of irritation reduce the frequency of use until skin acclimates.

You should carefully read all product packaging and labels prior to use.Store in fridge for the first 24 hours .It can then be stored in a cool/dark place. once opened use within 6 months

If you would like further advice, please read the following advice sheets:
C E Ferulic Fact Sheet (PDF)
Antioxidants (PDF)

See what the press say (PDF) ...

See what the press say (PDF) ...

Jemma Kidd uses CE Ferulic (PDF) ...









Similar Products You May Like
Do You Experience Any Sensitivity?
Yes

Only Around The Eyes

Facial Areas

No
Do You Experience Acne Breakouts?
Which Of These Skin Conditions Are You Concerned About?
Redness

Oil Control

Large Pores

Dull Complexion

Dark Spots

Sun Protection

Fine Lines

Firmness/Lift/Elasticity
Search Product By
Skin Type