CORRECT - STEP 3

Jan Marini Hyla3D
HA Activating Complex
Revitalize and Volumize with Hyla3D HA Activating Complex.
Take a 3-dimensional approach to restore skin's hydration and youthful volume.

Age and sun damage diminish the body's ability to produce and maintain youthful levels of Hyaluronic Acid (HA) in the skin; leading to loss of volume and visible signs of aging. Hyla3D takes a 3-Dimensional approach to restoring HA and volume to the skin.




1. Multiple forms of HA apply deep, long-lasting hydration.
2. Advanced technologies enhance HA within the skin.
3. Peptides and antioxidants boost collagen and elastin.

Hyla3D restores hydration while reducing the appearance of fi ne lines and wrinkles for a more youthful, contoured look.

Key Ingredients:
Liposomal Encapsulated HA
Cross-Linked HA
Ultra-Low Molecular Weight HA
Traditional HA
Tissue Respiratory Factor
HA Booster
HA Peptide
Coenzyme Q10

size:30ml

Directions:
Serum/gel
Great along side Fillers
Can be used all over the face or on targeted areas.
Can be used around the eye area as a eye serum


Shake well before using. Prior to use, leave plastic lid in place, invert and tap the top of the container several times into the palm of your hand. If you experience diffi culty when dispensing, repeat and pump product into the hand while inverted. Apply sparingly in the morning and evening over entire face and neck.

Click here to read Andrea's review of the Jan Marini Hyla3D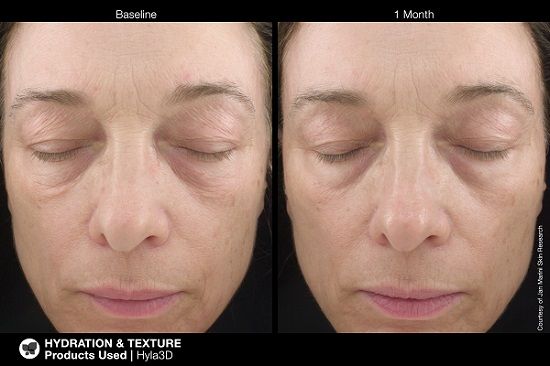 Similar Products You May Like
Do You Experience Any Sensitivity?
Yes

Only Around The Eyes

Facial Areas

No
Do You Experience Acne Breakouts?
Which Of These Skin Conditions Are You Concerned About?
Redness

Oil Control

Large Pores

Dull Complexion

Dark Spots

Sun Protection

Fine Lines

Firmness/Lift/Elasticity
Search Product By
Skin Type