Jan Marini Juveneck Neck Cream
RRP £78.00
A revolutionary anti-aging cream specifically formulated for the delicate neck area. Clinically proven to reduce the appearance of wrinkles and creases, refine skin texture and increase hydration.
- Paraben-Free
CORRECT
Marini Juveneck
Marini Juveneck is a revolutionary anti-aging cream specifically formulated for the delicate neck area. Clinically proven to reduce the appearance of wrinkles and creases, refine skin texture, increase hydration and improve neck & jawline definition.
FEATURES & BENEFITS:
• Visibly improves the signs of aging in the neck area
• Eliminates crepey skin and improves texture
• Softens the appearance of deep wrinkles and creases
• Reduces the appearance of fine lines
• Potent anti-aging and skin nourishing ingredients provide dramatic anti-aging benefits
• Skin regains a smoother, more refined appearance
• Improves definition in the jaw area
• Paraben-Free
KEY TECHNOLOGIES:
LIFTING / FIRMING
Secale Cereale (Rye) Seed Extract: Limits skin deformation. Acts as aself-tensor. Helps restore the kin's mechanical resistance properties for a long lasting natural lifting effect.
Avena Sativa (Oat) Kernel Extract: Forms a viscoelastic, cohesive and continuous biological film giving an immediate feeling of firmness and skin lifting.
Acetyl Decapeptide-3: Stimulates collagen and elastin to increase skin elasticity, increase cell growth and improve healing and repair.
Glaucine: Helps reduce fat deposits and water retention.
Dimethyl MEA (DMAE): Lifts and firms skin, reduces the appearance of wrinkles and improves tone.
ANTI-AGING / TEXTURE / BRIGHTENING
Oligopeptide-24: Increases elasticity and hydration.
Dipotassium Glycyrrhizate: The pure form of the active in licorice extract. Decreases hyperpigmentation, brightens skin and increases suppleness.
SOOTHING / ANTI-INFLAMMATORY
Bisabolol: An antioxidant and key effective component in chamomile. Studies show anti-irritant and anti-inflammatory benefits plus skin lightening of abnormal pigmentation due to aging or inflammation.
Tocopherol (Vitamin E): A potent antioxidant with soothing & hydrating benefits.
HYDRATORS
Panthenol: A form of vitamin B5. Penetrates well into the skin for superior hydration.
Hyaluronic Acid: Hyaluronic microspheres act like tiny molecular sponges to impart and retain moisture in the skin.
Directions:
Apply sparingly morning and evening to the entire neck and jawline wrapping around both sides to behind the ears.
CLINICAL STUDY RESULTS - Conducted by Leslie Baumann, MD
over 94% of study participants
1) liked the product and results
2) noted improved texture with smoother, softer skin
Data based on 3-month results from 71 subjects

Before and after images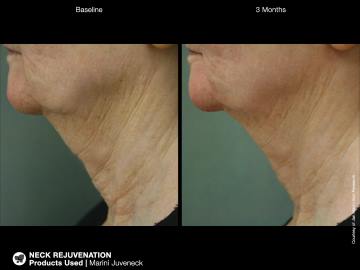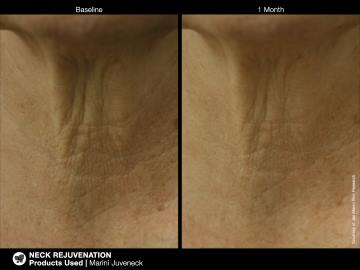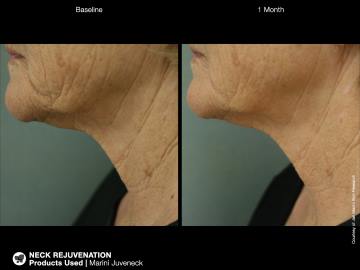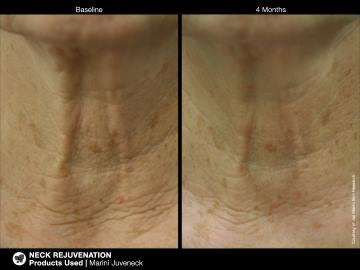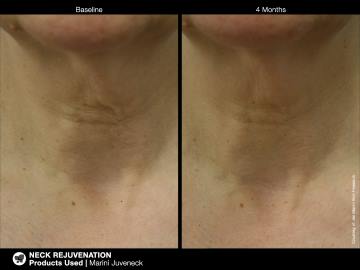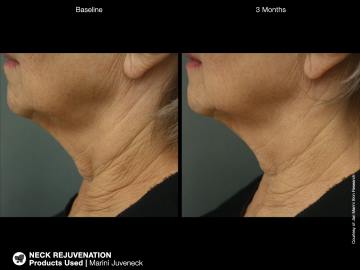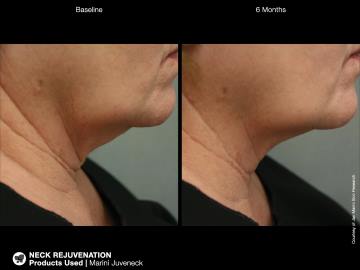 Ingredients

| | |
| --- | --- |
| Ingredients | |
The best neck cream I have tried over the years. Improves texture and tone through time. Strange smell on initial application but this fades rapidly
Sorry no video available.