Correct with Marini ReNu Corrective Hand Complex
Do your hands give away your age? Patent-pending, ReNu Corrective Hand Cream is an exciting new multi-functional anti-aging hand cream that improves texture, brightens overall skin tone, decreases the appearance of wrinkles and lightens the appearance of pigment for dramatic hand rejuvenation!
Features & Benefits:
Improves the appearance of skin texture
Dramatically improves the appearance of aging and UV damaged skin
Brightens skin tone and increases skin's radiance and luminosity
Reduces the appearance of fine lines and wrinkles and crepey skin
Reduces the appearance of sun spots and age spots
Paraben-free
Size: 28g
Directions & how to apply:

Apply sparingly morning and evening to the backs of each hand.
Don't wash your hands for 2 hours after applying.

CAUTION: This product contains Retinol (Vitamin A). A broad spectrum sunscreen is recommended while using this product. Use in pregnancy and while breast feeding is not recommended.

A 28 person 4 month Clinical study showed 100% texture improvement rate noted by Doctors and a 98% success/satisfaction consumer rate!
Read more about the Jan Marini ReNu Clinical Study Results.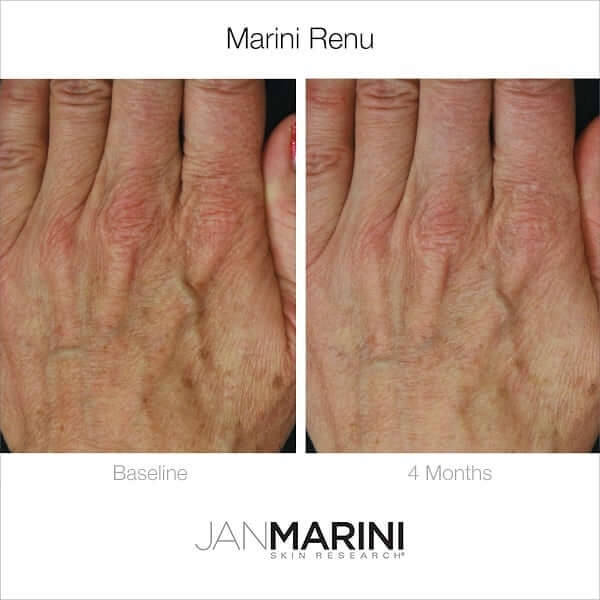 Similar Products You May Like
Do You Experience Any Sensitivity?
Yes

Only Around The Eyes

Facial Areas

No
Do You Experience Acne Breakouts?
Which Of These Skin Conditions Are You Concerned About?
Redness

Oil Control

Large Pores

Dull Complexion

Dark Spots

Sun Protection

Fine Lines

Firmness/Lift/Elasticity
Search Product By
Skin Type