Wear your sun protection... and wear it daily!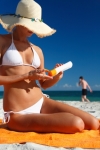 When it comes to skincare, prevention is better than cure.
The sun and its harmful effects can be one of the most damaging elements our skin has to face. Not only does this lead to formation of lines, wrinkles, and discolouration – it can lead to more serious skin conditions, including skin cancer. As the occurrence of dangerous skin cancers continues to rise, there's overwhelming data that supports consistent sunscreen use. Taking care in the sun will not only help to protect you from skin cancer but will prevent the outward signs of ageing.
So if you're wanting a tan this summer, the only safe way to tan is to fake it by using a sunless
self tanning product
.
The best beauty tip anyone can ever give you is to wear an SPF sunscreen every day, even when it's grey and cloudy outside as the damaging UVA and UVB rays can penetrate cloud and glass. It's important to choose a sunscreen that protects against both types of UV rays as they can both damage your skin. UVB rays are the rays that cause tanning and sunburn. Sunburn cannot only be very painful and look awful but is very dangerous for your skin as it increases your risks of developing skin cancer. UVA light penetrates deeper into the skin than UVB light and can cause premature ageing including wrinkles, age spots, pigmentation and loss of skin elasticity.
Sun care tips
• Use a broad-spectrum sunscreen daily with a sun protection factor (SPF) of 20 or higher and even when the sun is not out.
• Sunscreens should be re-applied at least every 2/3 hours and after swimming, exercise, heavy perspiration and towel drying.
• Sunscreen should be applied at least 30 minutes before going out into the sun.
• Cover up between 11am – 3pm when the sun is at its strongest.
• Wear clothes that will protect you in the sun, tightly woven fabric and a sun hat covering the neck, ears and back of the neck.
• Wear sunglasses to protect the skin around the eyes.
Products Mentioned In This Article