1. Exfoliate, Exfoliate, Exfoliate!
We cleanse & moisturise, but we often forget to exfoliate.It's the most important step for getting your skin to glow.
As you age, skin cells turn over more slowly which can leave skin dull and lifeless. Removing dead skin cells and encouraging new cell growth will reveal healthy, radiant new skin with improved elasticity. This enables your serums, moisturisers and other skincare products to penetrate the skin's surface better and work more effectively.
With regular use an at-home microdermabrasion system helps reduce the appearance of fine lines and wrinkles, open pores, pigmentation, acne scarring and so much more.
Try DermaTx, a targeted at-home microdermabrasion system which includes a cream and the DermaTx Dermatool which can be used to for gentle exfoliating and as a face cleansing brush for all skin types & concerns:
Brighten (with SABIWHITE®) – Designed for uneven skin tone, sun-damaged and ageing skin.
Clarify (with 2% Salicylic acid) – Designed for acne, oily skin and enlarged pores.
Rejuvenate (with Antioxidants) – Designed for normal to sensitive skin.
The video below shows Kate, our skincare advisor, demonstrating how to use the DermaTx Brighten microdermabrasion cream with the DermaTx Dermatool:
2. Sunless Self Tanner
You don't need the sun to give you that summer-smooth and sun-kissed glow, try a sunless self tanning treatment instead.
It's important to get into the habit of getting your summer glow from a bottle and not from harmful UVA rays. Exfoliation first for clearing away dead skin is essential, before you apply a sunless tanning product. If you skip this important step, your skin will look splotchy and the application will be uneven. Try HydroPeptide Active Body Scrub.
3. Get Your Feet Ready to See the Sun!
Are your feet dry and calloused from being in shoes and boots all winter? It's time to start working on taking off the thick and rough skin. Try NeoStrata Problem Dry Skin Cream to ensure your feet are in tip top, flip flop condition this summer.
4. Protection, Protection, Protection
It cannot be said enough times - sunscreen is essential to protecting your skin from the harmful rays of the sun. No tan is a safe tan! Sun protection is the single most important way to have beautiful, radiant smooth skin for your entire life. And yes, you should wear sunscreen all the time, summer or winter!
Our sunscreens are no ordinary sunscreen. They're clinically proven to protect your skin experiences every day and help the signs of ageing.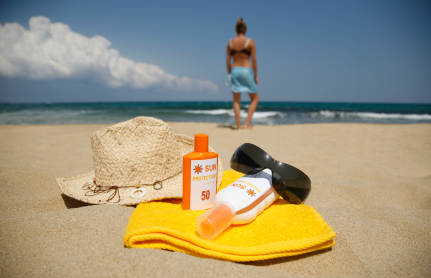 5. Ultimate protection
Sunscreens alone only protect skin from 55% of the damage from the sun, however when combined with a topical antioxidant, the skin is offered up to 96% protection.
The regular application of a vitamin C serum can be very beneficial, especially in combination with sunscreen for protecting against the damaging effects of the sun. An antioxidant helps to promote skin rejuvenation by reversing free radical damage caused by the sun and natural ageing.
6. Protective wear (i.e., sunglasses & hats, umbrellas, etc.)
When the sun is shining make sure you are wearing your big floppy hat & sunglasses. Apply your daily application of Medik8 Advanced Day Eye Protect or SkinCeuticals Mineral Eye UV Defense to protect that delicate area, both with SPF 30.
Products Mentioned In This Article