Rejuvenated Veggiecol 500mg - 60 Caps
The ultimate anti-ageing drink that really gives results for vegetarians.
Collagen supplement that is not a marine or animal derivative.


VEGGIECOL™ VEGETARIAN ALTERNATIVE TO COLLAGEN SHOTS

Veggiecol™ is the first natural collagen supplement to offer a vegetarian alternative to marine based Collagen Shots.

Collagen type I is the major protein found in connective tissues and skin, it plays an essential role in maintaining skin tone, suppleness & elasticity.

After the age of 25 collagen synthesis reduces at a rate of 1.5% a year and the age of 45 collagen levels can have fallen by as much as 30%. The visible effects of this process are the appearance of wrinkles, fine lines & dry skin.

Veggiecol uses a unique patented extract of which combines collagen hyaluronic acid and over 500 ingredients with super fruit acai berry, vitamin C, vitamin B (niacin), copper and zinc.

Vegetarian collagen and hyaluronic acid with vitamin C to promote softer and smoother skin.

Our special blend helps to support healthy dna, protect from oxidative stress and contributes to normal skin pigmentation.
Not suitable for vegans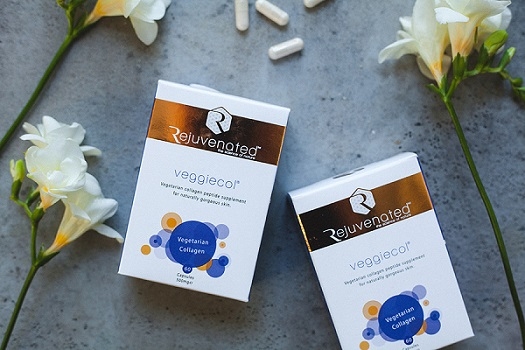 - Suitable for diabetics
- 100% natural ingredients
- Gluten free
- Lactose free
Comes in a 60 capsules
Ingredeints:

Glycoproteins: Found in cell membranes, they function in cell-to-cell recognition. They have an important role in protection, structural integrity and cell adhesion and assist in developing elastic fibres of elastin and connective tissue.

Chondroitin sulfate: Proteins with glycosaminoglycans (GAGs), a family of carbohydrates with its primary role to maintain and support collagen, elastin and plumpness in the cellular spaces. It helps collagen and elastin fibres to retain moisture.

Hyaluronic acid: Often referred to as the fountain of youth, it can hold up to 1000 times its own weight in water and provides a cushion filler between collagen fibres and elastin.

Amino acid L-cysteine: A building block of the antioxidant glutathione, arguably the body's most important antioxidant that recharges Vitamin C and E in the battle against oxidization.

Hydroxyproline : The key amino acid in the stimulation of fibroblasts which in turn stimulate the production of collagen. Glucosamine, keratin and lysozyme: Protect cells from oxidative stress and boost the immune system. Inhibits the production of tyrosinase, reducing the production of melanin and hyperpigmentation.

Vitamin C: Contributes to normal collagen formation for the function of skin, cartilage & blood vessels.

Riboflavin, Niacin, Vitamin C & Zinc: Contributes to the maintenance of healthy skin.

Copper: Contributes to regulating skin pigmentation

Acai berry: A super berry fruit packed with amino acids, antioxidants, minerals & vitamins.

Free from Gluten, lactose, sugar and artificial preservatives.

Directions:
Contains 60 Capsules
Take 2 tablets daily with a glass of water.
Not suitable for vegans and those with allergy to eggs.
If you are breastfeeding or taking any medications, please consult a doctor before use.
In the Press:
County Wedding Magazine
"From the producers of a marine-based collagen supplement comes their veggie version, which whisks up proteins, amino acids, vitamins and minerals to protect skin from ageing." Cosmopolitan "The results on my skin, hair and nails have been amazing - my skin is looking more radiant and plump, which seems to have helped those horrid fine lines."
Ingredients

| | |
| --- | --- |
| Ingredients | Marine Collagen Hydrolysate, Acai Berry extract, ascorbic acid (vitamin c), hyaluronic acid, Flavouring, Niacinamide (vitamin B3), Calcium Pantothenate (vitamin B5), Pyridoxine Hydrochloride (Vitamin B6), natural sweetener (Stevia), wild berry flavouring. |
Delighted to find a vegetarian collegen. I am nearing the end of my first month using veggiecol and am starting to notice a difference. My skin feels plumper and although it doesn't feel softer it does look better. I understand you need to use this product for a couple of months before you get the full benefits and so I will be reordering. Pleased so far