PFB Vanish - PFB Vanish roll-on gel 60ml
- PFB Vanish eliminates ingrown hairs
- Unique roll-on gel formula 60g

WARNING - Amazon or Ebay are not authorized resellers of PFB Vanish products.

The First Line of Defense for Ingrown Hair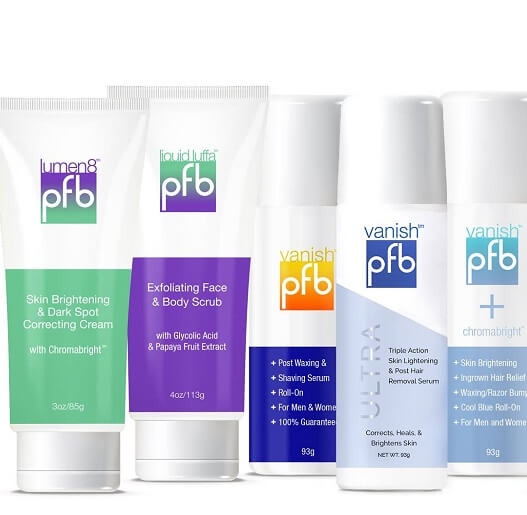 PFB Vanish™ is a unique, cosmetically elegant roll-on gel formulated for ingrown hairs, razor burn and bumps resulting from shaving, waxing, tweezing, electrolysis and laser hair removal. It contains natural antibacterial willow bark extract and camphor oil to stop ingrown hair infections before they start, combined with hydrating exfoliation from glycolic, salicylic and lactic acids. The soothing and smoothing ingredients reduce inflammation, release ingrown hairs and produce bump-free skin.

•Physician endorsements
•Produces results in 24-48 hours
•Roll-on applicator "never comes in contact with your hands"
•Gel formulation - no waste of product
•Non irritating
•No chalky white residue
•Contains more exfoliating ingredients
•Herbal scent
•Cool feeling
•And most importantly... IT WORKS!

Available in sizes: 2oz/60ml and 93g

Directions:
Apply once a day
Use on face, neck, underarms, legs, back and bikini areas. For maximum benefits, apply daily after waxing, shaving, tweezing electrolysis and laser removal.
Don't use deodorant under arms during use of PFB

PFB Vanish can also be used in case of mild acne

Caution:

Do not use if allergic to aspirin. DO NOT USE DURING PREGNANCY AND BREAST FEEDING.
DO NOT USE ANY TYPE OF CHEMICAL EXFOLIANTS, SCRUBS, HARSH SOAPS INCONJUNCTION WHEN USING PFB VANISH, PFB+CHROMABRIGHT & PFB ULTRA

Apply a sunscreen daily when using products that contain Alpha Hydroxy acids (AHA's).



You May Also Like