The First Line of Defense for Ingrown Hair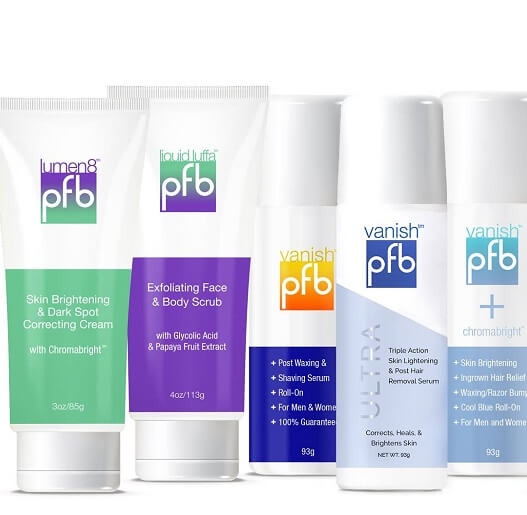 The need for a skin lightener to help with post-inflammatory hyperpigmentation so PFB Vanish infused Chromabright into the original formula. Glycolic, salicylic and lactic acid exfoliate the top layers of skin to allow the trapped ingrown hair to lift above the skin line. This in addition, aids in the penetration of chromabright to target the abnormal accumulation of melanin which is responsible for hyperpigmentation, which could be a serious aesthetic problem.

Clinical studies show that PFB Vanish + Chromabright was 45.9 percent more effective than kojic acid and hydroquinone; and in addition was able to inhibit tyrosinase activity by 37 percent. PFB Vanish + Chromabright possesses a photoprotective effect on epidermal keratinocytes, helping to prevent the skin damage caused by UV radiation.

PFB Vanish + Chromabright© - Two Products in One:
Skin Lightener & Bump Fighter

Same ingredients as the original PFB Vanish but we added Dimethylmethoxy Chromanyl Palmitate to lighten dark spots.

Perfect for Dark Spots in:
- Inside thighs & bikini area
- Under Arms
- Chin
- Nape of neck
- Acne
- All ethnic skin types
- The only Lightening and Ingrown Hair Roll-on on the Market
- Skin lightening results in 6-8 weeks

Chromabright- A new patented ingredient designed for skin brightening that shows neither cytotoxic effects, nor any irritaion or sensitive reaction.

Facts:
•Chromabright exhibits a better depigmenting effect than MAP, Kojic Acid, and Arbutin, and similar to Hydroquinone
•Chromabright does not affect melanocyte growth, while Hydroquinone cytotoxicity was clearly observed
•190% increase in cell viability
•Chromabright helps to prevent the skin-damaging effects of UV radiation
•Acream containing .1% of Chromabright induced a signicant brightening effect after 30 and 60 days

Directions: Use on face, neck, underarms, legs, back and bikini areas. For maximum benefits apply daily after hair removal.
Don't use deodorant under arms during use of chromabright.
Please click here for fact sheet PFB Vanish + Chromabright fact sheet (PDF file)

Caution:
Do not use if allergic to aspirin. DO NOT USE DURING PREGNANCY AND BREAST FEEDING.
Do not use any type of chemical exfoliants, scrubs, harsh soaps in conjunction when using PFB Vanish or PFB+Chromabright.
Only apply PFB+Chromabright once a day
If you're a darker skin type (Fitzpatrick Skin Type 4, 5,6) your skin is more sensitive and in some rare cases may darken. Discontinue use if this occurs your skin is more sensitive and in some rare cases may darken. Discontinue use if this occurs.

Apply a sunscreen daily when using products that contain Alpha Hydroxy acids (AHA's).
Similar Products You May Like