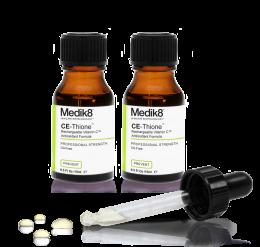 Vitamin C is necessary for the good functioning of many biological mechanisms in our body, including basic skin functions.

However, Vitamin C isn't naturally produced by our body like most other Vitamins, we need to supply it through an external source, i.e. through nutrition, supplements or skincare.

To enjoy the benefits of Vitamin C for you skin, potent Vitamin C needs to be applied topically.
Benefits of Vitamin C for your skin
1. Prevents pre-mature skin ageing - Vitamin C is an excellent antioxidant that protects the skin from free radicals.

2. Minimises the formation of lines and wrinkles -

Vitamin C is an essential coenzyme for the synthesis and transportation of collagen into the dermis.
3. Evens skin tone and reduces pigmentation marks - Vitamin C disrupts the synthesis of melanin.
Medik8 experts, explain what you should know about Vitamin C skincare products:
It's a trusted classic anti-ageing ingredient: it's clinically proven to have class leading anti-ageing benefits, it increases the production of collagen, it's a great antioxidant and it helps reduce pigmentation marks!

Now, what some might not know about Vitamin C is that for it to be able to deliver these great benefits, it has to be highly stable and highly bio-available!

That means it keeps its activity over time and penetrates effectively into the deep layers of the skin where it works its magic!
So, how do you know if an aqueous Vitamin C product delivers all these benefits?
• Go for a colourant-free formula: a colourant is often used to hide an unstable Vitamin C product, because it changes colour when it goes off
• Go for a professional strength product: only a clinically proven concentration will deliver optimum results
• Lastly... go for a low pH formula: it keeps Vitamin C stable and significantly increases its penetration
Medik8 Pure C15 (previously known as CE-Thione) offers just that:
• Colourant-free formula that won't change colour*
• Unique Rechargeable technology that keeps Vitamin C stable
• Professional strength: 15% Vitamin C
• Low pH It's oil-free, lightweight texture penetrates quickly leaving your skin soft, smooth and looking visibly younger.