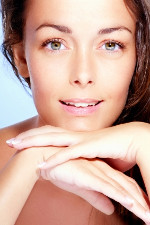 Younger, healthier skin has never been easier and so affordable!

Microdermabrasion has become the most popular and effective, non-surgical way to help reduce acne, scars, fine wrinkles, hyperpigmentation and stretch marks and requires no downtime.
Microdermabrasion treatments are a gentle and painless method of exfoliating the skin on the face or body, to remove dead skin cells, oils and other debris that clog pores and lead to dull complexions and blemished skin.
Microdermabrasion is often used as part of an overall skin care program because it enhances the effectiveness of other skin care products. This is because by exfoliating the top layer of skin, it allows the active ingredients in other skin care products to penetrate the middle dermal layer of skin where it can be more beneficial.
Microdermabrasion also stimulates collagen production, helping your skin rejuvenate faster than normal.
It is considered safe on all skin types and colours.
Microdermabrasion used to be done at clinics or salons, where it can be very costly, requiring 6-10 sessions for maximum results at prices ranging from £60 to £70 per treatment. Fortunately, microdermabrasion at home has become possible, making the treatment accessible to everyone.
For the price of a single salon treatment (or less), you can acquire you own kit and be able to apply treatment as you require it. Another benefit of being able to do microdermabrasion at home, is the fact that you can do it in the privacy of your own home and in your own time. Many people keep hectic schedules, or work long hours, making it impossible to visit a salon.
The procedure must be repeated periodically to be fully effective.

There is a wide variety of home microdermabrasion products on the market and finding the right kit may be a matter of trial and error although names like DermaNew and Dermanesse have a good reputation in microdermabrasion.
They are designed for professional level results at home.
Most home microdermabrasion kits provide the aluminum oxide, micro-crystal creams, rejuvenating lotions, a delicate exfoliating hand-piece or wand, and foam applicators.


At home products and devices that claim to be an alternative to surgery have become increasingly popular largely due to their effective reputation and value for money. So if you would prefer to keep your beauty routine to your bathroom, here's some great buys to try …..

Home Microdermabrasion Systems:
DermaTx offers easy to use, at-home microdermabrasion systems for all skin types and concerns . The main reason behind its popularity is that its components and working principles bring it as close to professional microdermabrasion treatment as a home system can get. And the results show it.

The uniquely formulated creams are suitable for both men and women and each variant contains scientifically proven active ingredients to target specific skin types:

Brighten (with SABIWHITE®) – Designed for uneven skin tone, sun-damaged and ageing skin.
Clarify (with 2% Salicylic acid) – Designed for acne, oily skin and enlarged pores.
Rejuvenate (with Antioxidants) – Designed for normal to sensitive skin.

Achieving smoother, younger-looking skin in the comfort of your home has never been easier!
Please remember when using microdermabrasion home kits that you read and follow the instructions, apply sun sunscreen daily and don't use if you suffer with sensitive, rosacea or any skin conditions like eczema.