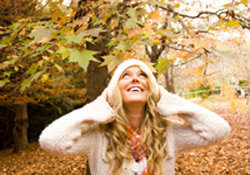 The change of season gives you a chance to repair any summer sun damage and prepare your skin for cooler temperatures

HYDRATE
Over-exposure of the skin during the summer may mean that it's suffering from dehydration. The moisture lost needs to be properly supplemented before the onset of winter. Moisturise at least twice daily after cleansing. Dry, normal and combination skin types may use a light serum, gel or lotion. For drier skin types, choose a thicker cream based moituriser meant for dry skin. Along with your facial skin, you need to take care of your body also. Be sure to take short warm baths and apply moisturiser onto your damp skin.

Summer means dehydration and therefore more water intake for replinishing the moisture lost, but that should not change once the temperatures drop. In fact, you should continue to drink at least eight glasses of water a day throughout the year, irrespective of seasonal changes. This will help you to flush out the body toxins better thereby ensuring a problem-free skin.

TREAT
If you have over exposed your skin this summer and now suffering with sun spots and pigmentation -don't disappear - go for products which exfoliate the skin and contain lightening ingredients like kojicol acid. And don't forget to use sunscreen to prevent more appearing.

PROTECT
I am obsessed with sun protection - but I was a dermatology nurse for years! If there was just one product I could recommend people to use daily it would be sunscreen. My 4 year old son never leaves home with out it on! Even when it is grey and cloudy outside, the damaging UVA and UVB rays can penetrate cloud and glass. It is important to choose a sunscreen that protects against both as they can both damage your skin.

EXFOLIATION
Post summer skin looks dehydrated and sallow, and exfoliation is extremely important as it gets rid of the dead damaged cells. This step will prepare the skin to absorb more moisture and nutrition. Professional home microdermabrasion treatments once or twice a week is a great way of getting a deep exfoliation. Personally, I love the DermaTx system because of the professional cream it contains and also the cleansing brush that it comes with. I use my brush most days with my Jan Marini bioglycolic cleanser to give my skin a good cleanse rather than using my hands. You can also use products daily that contain light peeling properties such as those which include Alpha Hydroxy Acids or Retinoids. These products allow daily skin renewal, revealing a fresher & healthier look.