PREVENT


Allure Best of Beauty Award Winner ' The Best Anti-aging Antioxidant Treatment '
Wins 2010 Elle Genius Award
2011 Winner of Best Selling Retail Product at the Cosmetic News Aesthetic Awards
2011 Winner of Best High End Serum at the ES Beauty Awards

SkinCeuticals Promotion - for a limited time only!
Sunscreens alone only protect skin from 55% of the damage from the sun, however when combined with a topical antioxidant, the skin is offered up to 96% protection.

SkinCeuticals EXCLUSIVE Prevent + Protect promotion: Buy a 30ml Phloretin CF receive an SkinCeuticals Brightening UV Defence SPF 30 as a FREE GIFT! (worth £34)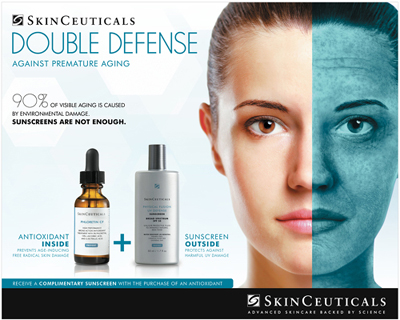 SkinCeuticals Phloretin CF Serum 30 ml
Phloretin CF™ represents a new class of preventive and corrective topical antioxidant treatment. After five years of extensive research, SkinCeuticals developed this patent-pending breakthrough technology combining the newly-discovered, broad-range power of phloretin with vitamin C and ferulic acid in a biodiverse formulation to divide and conquer sources of damage at every level.

Phloretin CF®, a broad-spectrum treatment, protects against not only free radicals, but the range of other reactive molecules known to cause damage and DNA mutations among the integral cell types. In addition, it corrects existing damage by stimulating the synthesis of essential proteins and fibers and accelerating cell turnover. The result — a strengthened support structure on the inside and a more youthful, firm, radiant appearance on the outside.

Size: 30 ml

Benefits:

- Diminishing age spots and other forms of hyperpigmentation
- Accelerating cell removal
- Improving laxity
- Retexturizing skin
- Oily, problematic and normal skin

Phloretin CF featured in Marie Claire as a "Beauty Must-Have"
"SkinCeuticals Phloretin CF... buh-bye brown spots - we swear - after a week of using this supercharged antioxidant serum (layered under sunscreen, of course)." - Marie Claire, April 2009

Directions:

Suitable for normal skin types, especially pigmented and problematic/oily skin

Once in the morning after cleansing, apply 4-5 drops to a dry face, neck and chest. (90 days).Follow with SkinCeuticals Hydrating B5 Gel and a SkinCeuticals moisturiser and sunscreen.

Patent-pending, breakthrough antioxidant combination of 2% phloretin, 10% L-ascorbic acid, and 0.5% ferulic acid for broad-spectrum antioxidant performance

On any sign of irritation reduce the frequency of use until skin acclimates.once opened use within 6 months

Warnings:
You should carefully read all product packaging and labels prior to use. If you would like further information, please read the following advice sheets:

Phloretin fact sheet (PDF)
Phloretin Results (PDF)
Serum (PDF)
See what the press say (PDF) ...

See what the press say (PDF) ...

Click here to read Andrea's Review of the Skinceuticals Phloretin CF






Similar Products You May Like
Regular Price: £100.00

Special Price £85.00