HydroPeptide's Anti-Wrinkle and Detox Collection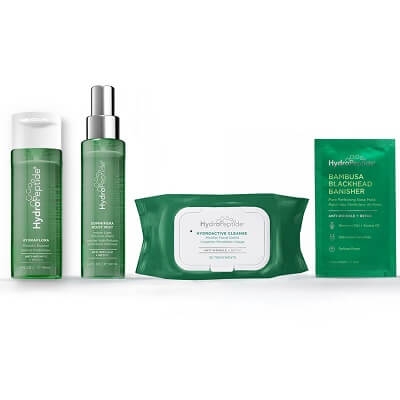 HydroPeptide Somnifera Root Mist - Indoor Light Pollution Shield
This refreshing mist is enriched with Somnifera Root Extract, which powerfully protects against damaging blue light and atmospheric pollution. Formulated with HydrO18™ Activated Water™, this hydrating and protecting spray replenishes lost moisture and revives the look of skin over or under makeup throughout the day.
FREE OF: Gluten, Parabens, Phthalates, Sulfates and Cruelty Free
What it is: A hydrating, soothing and pollution-blocking skin mist.
·Helps to protect against "blue light" and pollution
·Hydrates and locks in moisture
·Soothes and smooths
Who it's for: All skin types that regularly spend time around smart phones, computers or artificial lighting.
Key Ingredients:
ENERGINIUS™ (Somnifera Root Extract): protects skin cells from screen-emitted artificial visible light. Strongly reinforced, the skin is visibly revived and the signs of fatigue disappear in favor of a healthy glow.
Hydro18™ Activated Water™: patented oleic acid formulation creates "smart" water shown to increase skin hydration and improve skins retention of water.
Pollustop®: builds a protective barrier against atmospheric pollution, UVs, and domestic pollution.
Allantoin: derived from comfrey root, improves skin's moisture retention while delivering a soothing and smoothing effect.
Nelumbo Nucifera Root Extract (Botanical name for Sacred Lotus Flower): rich in phenolics and is hydrating and conditions the skin.
HOW TO USE: Mist liberally on face and neck every two hours while indoors.
Similar Products You May Like