Heliocare 360 Oral Capsules (30 capsules)

Heliocare 360˚ Capsules are a potent anti-oxidant supplement that's clinically proven to help attack against the free radicals that can accelerate aging.

Free radicals damage vital skin cells and tissues which, over time, accelerates the visible ageing of the skin, causes uneven areas of pigmentation and can damage skin health. Exposure to daylight and the sun is the main cause of free radicals within the skin.

Even the highest-level broad-spectrum topical protection is not enough to protect skin against these free radicals – this is especially the case during extended periods of time spent outdoors, or holidays.

There are times when protection of the skin "from within" to enhance the use of the Heliocare topical "on-the-skin" products can be important. This is normally during times of high-level UV exposure or risk which can be due to skin-type, an outdoor lifestyle, time of year and activities such as summer holidays or skiing, or impaired skin-health that can be due to a medical condition, or aesthetic or medical procedure.

Indication:
- Photodermatosis
- Immunosuppression treatments
- Photosensitising treatments
- Dermocosmetic procedures
- History of skin cancer
- Hyperpigmentation
- Coadyuvant in phototherapy
- Eye protection (given by Lutein)
- Cutaneous intolerance to sunlight

Heliocare 360˚ Capsules are a powerful anti-oxidant supplement, clinically proven to help defend against the free radicals that can age your skin beyond your years and impair skin health. Each Heliocare 360˚capsule contains Fernblock+, a uniquely prepared extract from the clinically proven fern Polypodium Leucotomos that helps to protect the skin from within, providing powerful anti-oxidant activity against free radicals.

The anti-oxidant activity in Fernblock+ is boosted with the addition of a sophisticated complex of N-acetylcysteine, Vitamins B3, C and E and Prebiotics.

The fantastic Fernblock anti-oxidant activity is also clinically proven to reduce the appearance of PLE; an unsightly red, blotchy rash that affects 10%-15% of the population!

- Powerful antioxidant protection.
- Suitable for all skin types.

Directions:
Take one capsule in the morning in addition to the application of your favourite Heliocare 360˚ topical product, especially during times of high exposure to the sun or prolonged periods of time spent outside.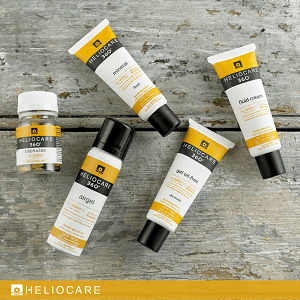 Similar Products You May Like